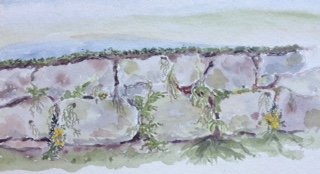 Lord, you know just how fascinated I am
By these granite walls;
Blocks placed by hand
With skill, almost intuitively,
With an innate sense of pride in creating
A barrier of strength but of beauty.
This wall has withstood the ravages
Of time and weather;
Of cruel storms hurling fierce winds
Across the ocean and then
Meeting this blockade set in its path.
But I sit and look and see beyond
The granite.
Between the crevices
Small plants take root
Spilling out and softening
The stark brutality
Of stone.
Yet even more mysterious and beautiful
Is the slow spread of many lichens
Patches of colour and patterns
Decorating the granite
Like an artist's palette.
Sitting here
I am conscious of the harshness of life
For so many of your children
Of any and of every age.
I am conscious of the need
For crevices of hope
To be filled with Life
And for the starkness of hardship
To be softened by kindness.
It would seem that
These granite stones
Exposed to the frenzy and fury of storms
Would have the softening hues ripped away –
But it is not so!
Thus, Lord, do our prayers and pleas
For hope and love
Colour the world in which we find ourselves
Bringing your strengthening comfort
Where all seems bleak and stern.
Father, forgive us when we fail to trust
Your eternal promise
To be with us until the end of time,
Colour our hard times
With the joy of Gospel Hope!
Amen.
Reading: Colossians 3:12-17
StF 736    In heavenly love abiding
Prayers for May by Hazel Parsons