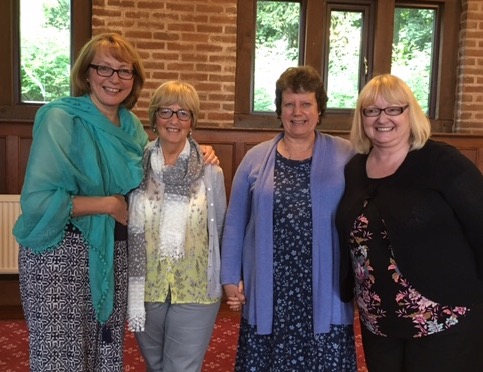 I am writing today's blog from the waiting room at Chesterfield station. Carolyn and I are travelling as cheaply as possible, so have two hours to wait for our advance fare train back to Devon this afternoon. It is sunny, we have our iPads and books to read, and it is also good to be able to chat over the weekend we have just spent at the Methodists for World Mission conference.
It was a particular delight to meet up with two of the women from Ireland, Joan and Moira. We asked Hannah to take this group photo after this morning's closing communion service. From left to right, Carolyn, Joan, myself and Moira. Ironically they should arrive home in Ireland before we get back to Devon!
The weekend has provided much to contemplate. Yesterday Carolyn led a workshop on hospitality and I shared stories of the work I have witnessed with refugees in Germany and Greece. Other speakers gave us added insights into the refugee situation in other parts of the world. We have much to process and the challenge of deciding how we might respond to what we have seen and heard. At the end of this morning we were encouraged to consider what issues we are each involved in, and, as we are able, to pray, to inform, to give, to volunteer and to advocate.
We have celebrated Pentecost in our worship this morning. We have also held in our prayers, yet again, people whose lives have been turned upside down by the events around London Bridge last night. Lord, have mercy.