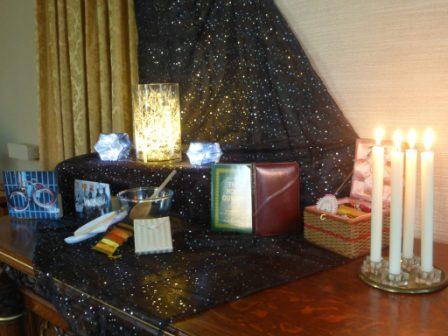 SALFORD CIRCUIT
The Salford Circuit Easter Offering Service took place at Monton Methodist on a recent Sunday Evening. Part of the display was contributed by the Junior Church Members of Monton and Patricroft Churches. The church had a display in the communion area reflecting on the stories and the theme Shine like Stars. There was a short meditation in the service given by one of the church's younger members.
[Photos left and above are from the Salford Circuit event]
STOCKPORT CIRCUIT
We recently held our service with the theme Shine like Stars at Davenport. We used the set service – with a bit of tweaking! There are 8 churches in the Stockport circuit and a member from each church took part. We raised £945.48 through the envelopes and the offertory on the night.
Marguerite Hall (MWiB Secretary, Stockport Circuit)
STAMFORD AND RUTLAND CIRCUIT
The annual Easter Offering service was held at Ketton Methodist Chapel on Sunday 7th May with the theme Shine like Stars. Ketton chapel made us very welcome and before the service we shared fellowship over a cuppa and cakes.
This year we joined with our new friends from the South Lincolnshire Circuit who took part in the service, and as a sign of unity, the Lincolnshire MWiB Forum rep Rite Rowe was also welcomed and led the prayers.
All were given a star and wrote their concerns and prayers on it; these were then put on the cross as a symbol of leaving our prayers with Jesus. After the service the prayers were shared around both Circuits and used in various prayer meetings during the week.
Nina Rawlins (MWiB President, Stamford & Rutland Circuit)
ASHBOURNE CIRCUIT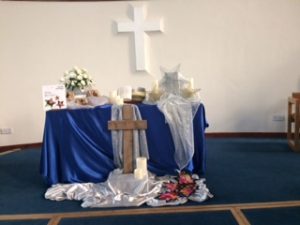 The photo above is of the display used at our Easter Offering service for the circuit on 14th May at Ashbourne. It was a well attended event with a well received reflection.