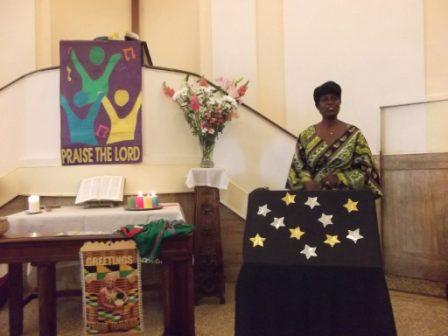 Ponte Sant'Angelo Methodist Church in Rome held its third Easter Offering service recently when we celebrated being part of the World Church and dedicated the money collected for the work of the World Mission Fund of the British Methodist Church. A magnificent sum was raised, totalling 1,000 euros, which will help the work of its partner churches including here in Italy.
As in our previous Easter Offering services several of our congregation from different countries of the world took part. Bible passages were read by Dutch and Filipino members, and the world church stories were read by those from Guyana (Brazil story), Ghana (Ghana!) and India (Pakistan). We actually had Steve Pearce from the World Church Office and his wife Chris Elliott with us the following Sunday! Another Ghanaian member, Mary, sang two Ghanaian songs. [Mary is pictured above during the service, and below outside Ponte Sant'Angelo Methodist Church with Angela Macquiban and Revd Tim Macquiban, minister at PSA]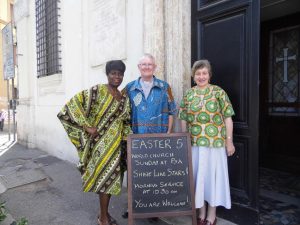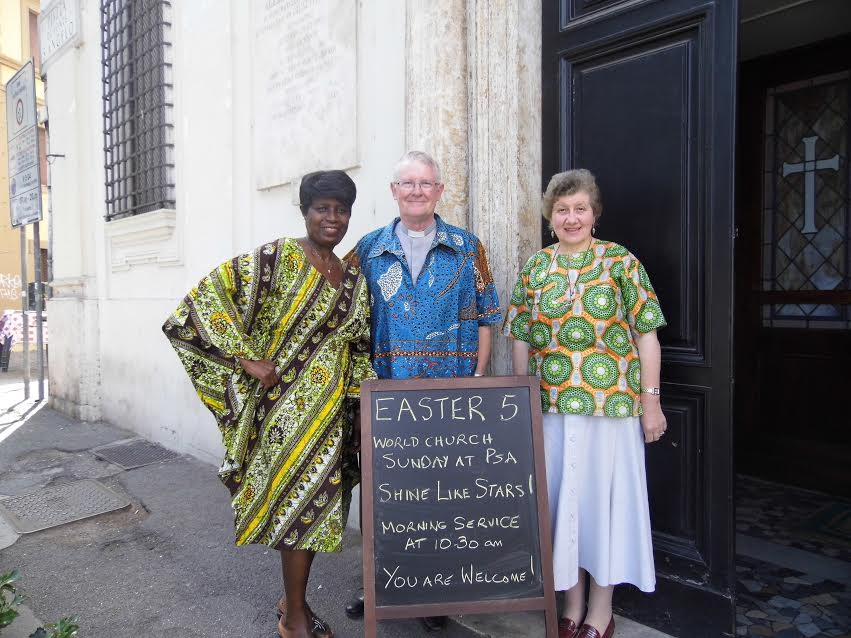 Prayers of intercession were written on paper stars as suggested, and attached to the display representing stars shining in a dark sky. These petitions have also been incorporated in our daily prayers with All Saints' Anglican Church here in Rome, as part of Thy Kingdom Come, the ecumenical prayer cycle for the nine days between the Ascension and Pentecost.
Angela Macquiban