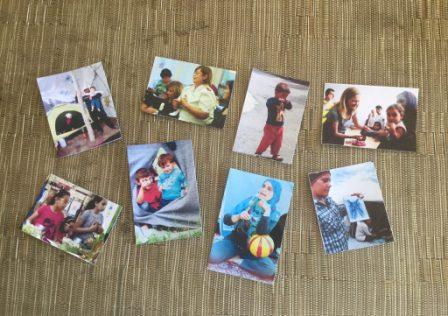 I am blogging from one of our fields this morning! We don't get much opportunity for time away together, so last night Ken and I brought our motor home up into a field with a good view across the valley. We have woken to sunrise and birdsong and are sitting outside with tea and toast, enjoying the sights and sounds of the countryside.
Yesterday I spoke to a group of Clergy Spouses about my visit to Greece. As there was no opportunity to use a projector I took these eight snapshots with me to illustrate my stories.
I went to Greece last May with a delegation of women from Churches Together in Britain and Ireland. We went to hear stories from the refugees there, especially the women and children, and then to return as 'living letters' to witness to what we had learned. It was poignant to share those stories again yesterday and to ponder where and how these people might be now.
We were particularly concerned that refugee families might have become separated as they fled from their homes and made the journey to Europe. Today many of us will acknowledge Father's Day in various ways. As ever with these special days, for some today will be full of fun and celebration, for others it will be poignant and they will find it hard. For some the Biblical presentation of God as a loving Father is sadly a difficult concept.
As I write this, the sheep are making their presence heard in the next field. Soon a local farmer will arrive to check on them as he does his daily rounds of the farm. Heavenly Father? Good Shepherd? I hope that, whatever your preferred image of God, it might reassure you today that you are loved and cared for.