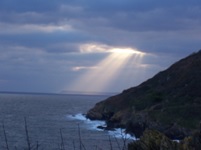 Some of the sights I love most of all are sun rises, sun sets, rainbows and the sun breaking through the clouds. There is something wonderful about how the streams of light pour from the sky and create breathtaking landscapes. My trouble is that I am often driving when I see such sights and it is hard to concentrate on the road ahead when wanting to look at the view – for I know that in a second it can just disappear or change dramatically.
When dark clouds fill the sky it is hard to imagine that the sun is still shining above them. But anyone who has been on a plane and flown above the clouds will know that reality, and for me when the sun bursts through the clouds in streams of light, it is as if the fingers of God are reaching down to touch his world.
For MWiB we say "thank you" to Anne Browse for her leadership and welcome  our new MWiB President Sandra Goodwin. We pray for her she follows in the footsteps of all those wonderful Methodist women, reaching right back to Susanna Wesley, who have exercised leadership in our Church and as she takes on the task of continuing to build up, encourage and enable us, as well as being a spokesperson, representative and an advocate for us.
There will no doubt be some great moments in her time as President, moments of breathtaking beauty that will remind her that God is very near, and she will come across situations that will need the light and love of Christ to burst through the dark clouds of what she experiences bringing light and hope. And with her theme of WATER, there is the image of her being filled to overflowing with God's love and grace as she serves God through her role as President of MWiB.
As we give thanks to God for Anne's past leadership, Sandra, we pray for you and for your time as MWiB President. May God's Spirit fill you to overflowing, and give you the energy you need to fulfil this task you have taken on. As you share your love of Christ with others may you tell of the height and breadth and depth of God's love for his world, and may you challenge us to transform clouds of tears and doubts into the light of joy and hope in Jesus. May God's hand be upon you and your family as you serve your God and the Church in this role.
Lord God, break into all our situations with your light and love and healing power, and be with Sandra as she leads the Methodist women in her time as President, and be with us all as we seek to do your will here on earth. Amen.
Photo: The Great Orme, Llandudno from Llanfairfechan
Prayers for July written by Denise Creed.