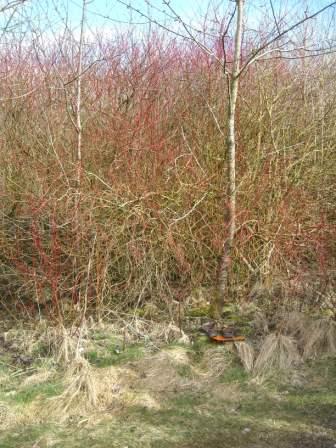 Once, leading a pilgrimage, we laid a trail for folk to follow, and found this copse of trees whose bark seemed to be glowing red. We placed a pair of sandals at the base of a tree and this was our "burning bush." The prayer station was  based on Exodus 3:1-5:
1 Now Moses was tending the flock of Jethro his father-in-law, the priest of Midian, and he led the flock to the far side of the wilderness and came to Horeb, the mountain of God. 2 There the angel of the Lord appeared to him in flames of fire from within a bush. Moses saw that though the bush was on fire it did not burn up. 3 So Moses thought, 'I will go over and see this strange sight – why the bush does not burn up.'
4 When the Lord saw that he had gone over to look, God called to him from within the bush, 'Moses! Moses!'
And Moses said, 'Here I am.'
5 'Do not come any closer,' God said. 'Take off your sandals, for the place where you are standing is holy ground.' 6 Then he said, 'I am the God of your father, the God of Abraham, the God of Isaac and the God of Jacob.' At this, Moses hid his face, because he was afraid to look at God.
[The Bible, New International Version]
At the beginning of this new Connexional Year, we need to stop and listen to what God is saying to us as a national Church, as local congregations, and as individuals. Moses was going about his ordinary work when he met God. And for me that tells us that all ground is holy ground for God is in all things and we should expect to meet God in the ordinary as well as the extraordinary places.
So where is the holy ground that you walk on and meet with God?
And what is your response when he calls you to share in his work of redeeming love?
At the beginning of this new year may our prayer be:
          Christ, be within us, to keep us.
          Beside us, to guard us.
          Before us, to guide us.
          Behind us to protect us.
          Beneath us, to support us.
          Above us, to bless us.
                                                   Amen
[Based on a prayer of St Patrick]
Prayers for September by Denise Creed.