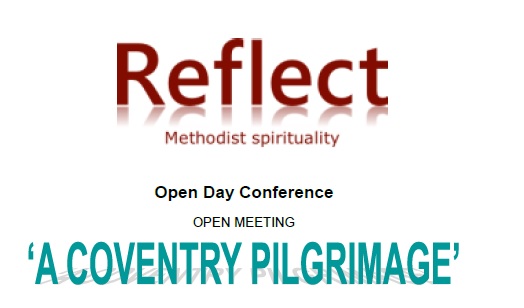 Saturday 18th November 2017, at Coventry Central Hall, 10.30am – 3.30pm
You're invited to join this Open Day Conference, organised by Reflect – Methodist Spirituality, with keynote speaker Jill Baker (Vice President of the Methodist Conference 2017-18).
There will be a choice of activities including:
Pilgrimage around the city of Coventry
'Walking the Way' meditation tapestries by Ruth Sprague
Indoor Labyrinth
Shoreline Conversations
Also, the Reflect AGM will follow at 3.45pm
All are welcome; there is no charge for the day, but donations are requested to cover expenses. Lunch is available to purchase, or bring your own packed lunch.
There is no need to book, but if possible please email: brian@reflectretreats.co.uk   to give an idea of numbers. Further information at www.reflectreatreats.co.uk
You can download information/poster here.