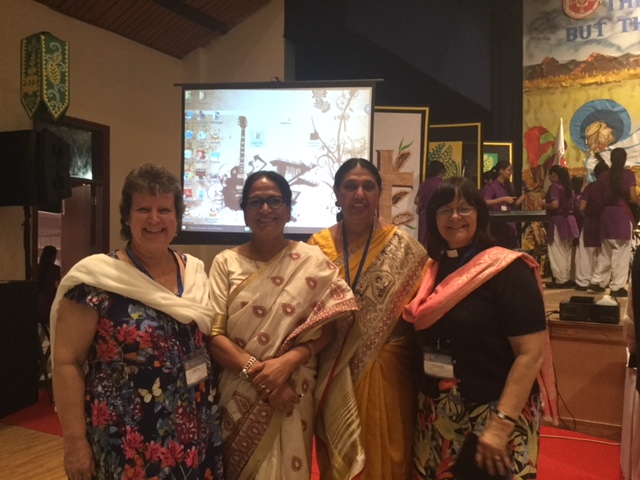 Today we thank Anne Browse for supplying this guest blog:
Whilst the other members of our Forum were meeting last weekend in Swanwick, Revd Deborah Kirk and I were privileged to be in India, representing the British Methodist Church and MWiB at the 16th Synod of the Church of North India in New Delhi.
We flew out from Heathrow last Wednesday to Indira Ghandi Airport and, after a lengthy wait to pass through immigration, we were driven to our accommodation at the YWCA International Guest House. It was good to meet up there with Revd Dr Inderjit Bhogal, who was at the Synod as a friend of CNI. He generously took us on a tour of Delhi, on foot and in one of the three-wheeler taxis which hurtle around the streets, dodging in and out of the multiple lanes of traffic, all with much hooting of horns!
We spent last Friday in meetings with other world partners of CNI and then the weekend attending the Synod. Those of you who have access to Facebook will find photographs and videos uploaded there as our week progressed. We were able to see how the Church of North India is working with the poorest and most marginalised communities, including the Dalit and Tribal people, and received their reports from the last three years. Most of the business was conducted in English, moving from time to time into Hindi and back again to English.
As we walked around the St Thomas School for Girls, where the Synod was being held, I had to pinch myself to realise that I really was in India. I felt so very much at home and welcomed amongst the broad smiles and generous hospitality. The colours were vibrant and the friendship warm – as was the temperature!
We were also able to spend time with two of the staff from All We Can, Andrew Edwards and Charlie Kabanga, and to talk with them about the work of MWiB. Deborah and I look forward to further similar conversations as we attend the One Mission Forum at Methodist Church House this coming Saturday.
The photo shows us with Mrs Poornima Lall (left) and Mrs Prabhjot Primrose Masih (right). Mrs Masih's daughter, Priya, visited MWiB with Revd Meena Bhati last year. Neither of them was at the Synod this time, but we met many others with whom we shared fellowship over the course of our stay.
As we had been warned it would, the visit felt far too short, but we were able to see how the work of CNI is progressing and I look forward to sharing some of those stories with you in the coming year.
With greetings and blessings, Anne