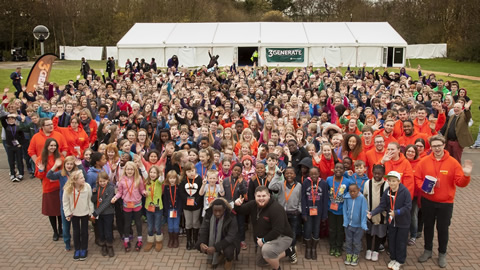 On Friday I travelled, in glorious sunshine, to Pontins in Southport. Unfortunately as I reached my destination dark clouds had gathered and as I was about to unload the car the 'heavens opened' to release torrential rain!
The purpose of my trip was to deliver resources to the MWiB stand at 3Generate. Rachel Allison, our Helen Kim Memorial Scholar (HKMS) was working alongside Tim Baker and many other volunteers in the 'Agents of Change' marquee.
The aim is to help our young people have a wider vision of the world and look at ways in which the Methodist Church today is working alongside others to be 'Agents of Change' in a world of inequality and areas of need.
Rachel's focus was on UN SDG 5 – Gender Equality and empowerment for women and girls, the theme that we also addressed at our World Federation Day in October.
By pure coincidence, Saturday 25th November was the 'International Day for the Elimination of Violence Against Women' and the 'Religions for Peace' Uk Network of Women of Faith, began 16 days of raising awareness against gender based violence.
In the 'Agents of Change' marquee many activities and workshops were being set up to help the young people experience and begin to understand the many differences in lifestyle, culture and lack of what we would call the basic necessities of life, experienced by families across the world. There was the opportunity to sit in a Zimbabwean house, hear about and see videos of work being done by All We Can, MWiB and many more agents of change, to make a difference.
I drove away from Southport, through a couple of hailstorms, to enjoy the warmth and comfort of home, – something else it's so easy to take for granted!
'Lord help us to appreciate and share what we have with those who have not, in your name' Amen