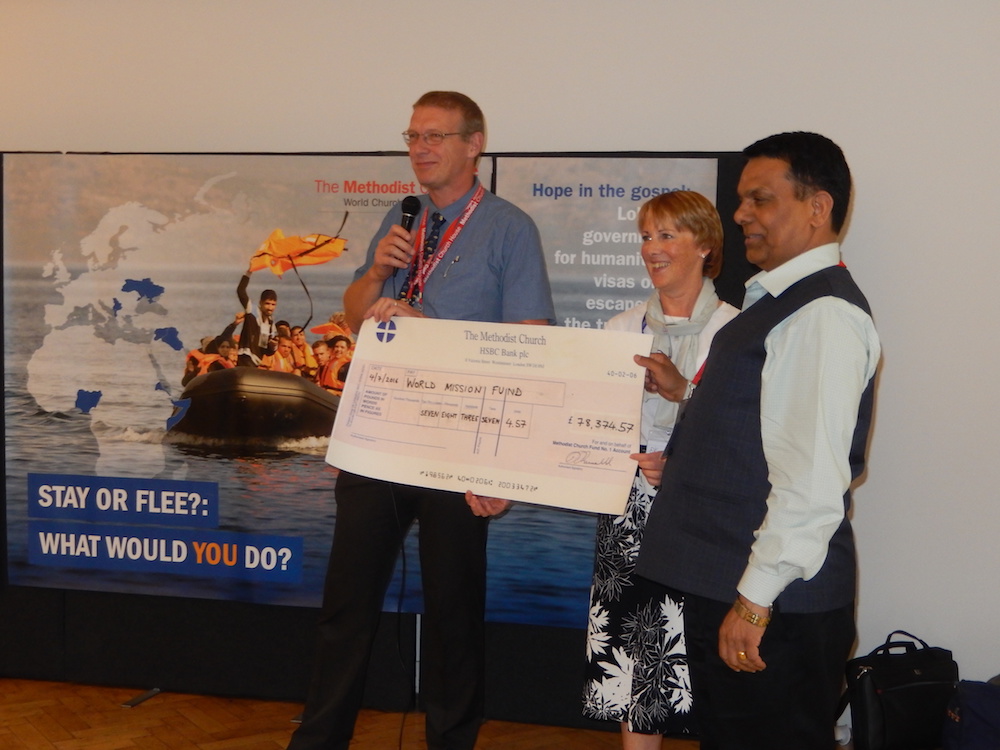 On Wednesday the MWiB executive team met once again at Methodist Church House to assess where we are now and to plan ahead for the coming year.
Today's photo, taken at the Conference fringe event in 2016 shows Gillian Womersley, our finance officer, standing between David Friswell, leader of the World Church Relationships team and Alwan Masih, General Secretary, Church of North India Synod. We have been really blessed by all those who contributed funds the work with girls and women in India. Although our fundraising has moved on to other areas, monies raised for the Dalit project, over £100.000, will continue to be used to 'make a difference' over a number of years.
Gillian began in her role as MWiB finance officer in August 2013 and will be passing on the baton in 2018. There will of course need to be a time of shadowing during the handing over process and it's for this reason that the interviewing process will happen early in the new year. Gillian writes:-
'The role requires a big time commitment and a reasonable level of accountancy knowledge.  It is not however very difficult or particularly complicated.  One of the main things I enjoy about the role is, that being an organisation with very healthy reserves, means we can afford to be generous and that is very gratifying.  People are generally very appreciative of the work done by MWiB and many of the letters I receive are hugely supportive.
Being a member of the MWiB Executive offers lots of exciting opportunities.  MWiB paid for me to attend two excellent World Federation International events – the Joint Area Seminar in Rome and the World Assembly in Houston.  These are experiences that I will never forget.  I have also had the opportunity to meet and work with many special women whom I am now pleased to call friends.
Overall, the opportunity to be part of the Executive of Methodist Women in Britain is a rewarding one that can really make a difference to women in Britain and around the world.'
Gillian will be moving on to another chapter in her life and we will certainly miss her from the exec team. Maybe you too feel that a new chapter, a new opportunity could open for you? If you feel this may be the case have you thought of applying?
The closing date, 30th November, will soon be here. The documents for this application may be found at:
http://mwib.org.uk/index.php/2017/09/01/exciting-volunteer-opportunities/