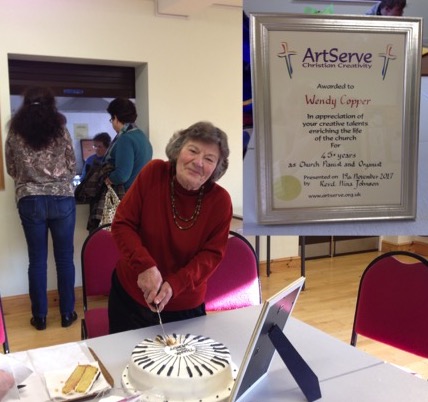 The last few days have been pleasantly busy. On Saturday we held our second Swanwick taskgroup meeting at Westminster Central Hall. Gathering to plan the 2018 residential weekend in more detail, we discussed the format of sessions, taking into account feedback received from the previous year, shared information with regard to workshops, and finalised the detailed programme. Over 40 bookings have been confirmed since 1st November and many more are in the pipeline or should I say 'post-line'? It was a busy but very positive meeting.
Booking details and application forms for Swanwick are on the web-site and, as in previous years, bursaries are available, applications for which need to be in by 31st December. These may be downloaded from: http://mwib.org.uk/index.php/download/swanwick-2018/
At the end of our morning service on Sunday, a lovely surprise awaited one of our members, Wendy Copper. Sharing her musical talent as pianist and organist with us for over 45 years, Wendy has regularly enhanced our worship. It was a great pleasure to join in the opportunity to say thank you. Pictured above with her certificate from 'ArtServe' Wendy is sharing a delicious cake and took home a beautiful bouquet of flowers to enjoy at leisure.
Wendy will continue to share her musical talent with us from time to time. God has blessed each one of us with different gifts and talents, we in turn can be a blessing to others as we share those gifts in his name.