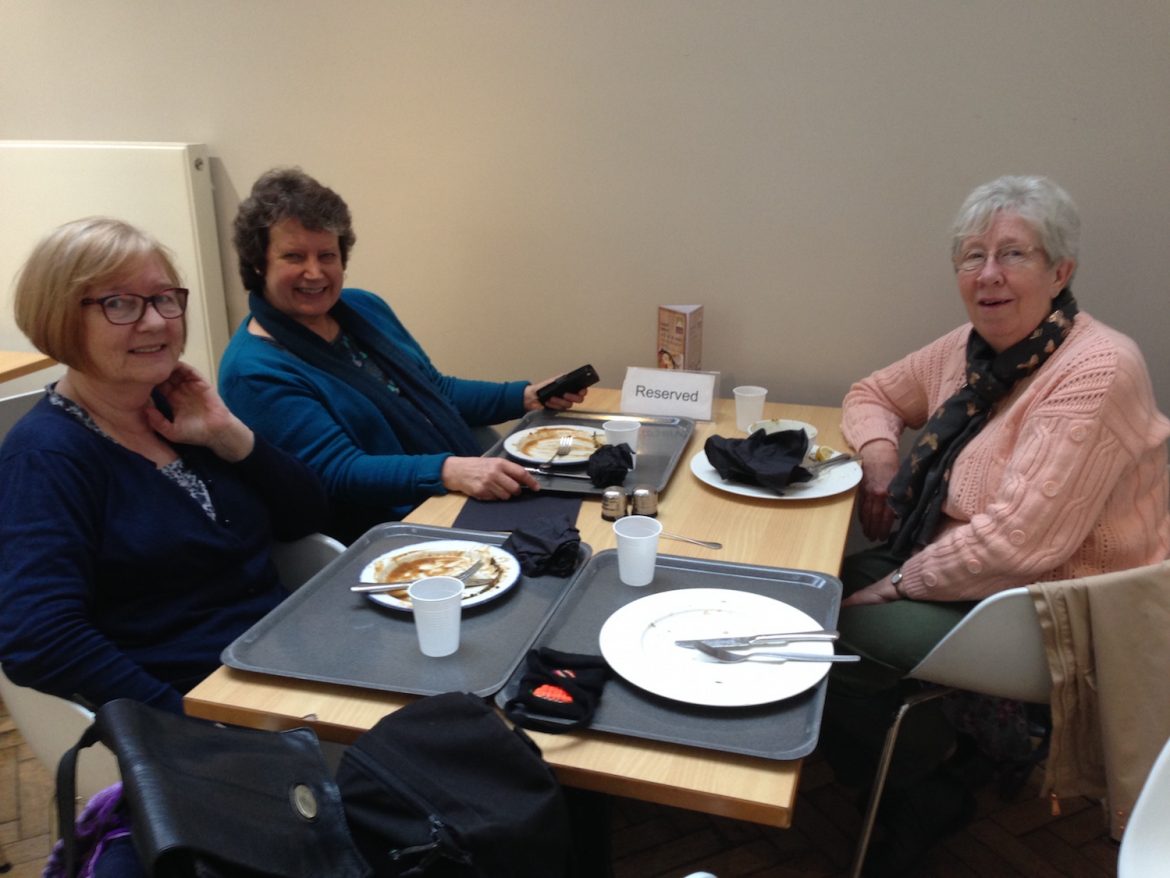 Today's photo shows yet another table! On this occasion I was meeting with members of the Swanwick Weekend planning taskgroup, Glenys Vere (Sheffield District) on the left, Anne (Vice President) in the centre and Credwyn Tolhurst (South East District) on the right. Two other members, Hannah Belsham and Lauren Brabbs were unable to join us on this occasion.
The meeting was held on Saturday in the cafe at Westminster Central Hall and, as the empty plates testify, the food we shared during our lunchbreak was good!
For those of you who may be unfamiliar with the event we call the 'Swanwick Weekend', It is a residential gathering of women from across Britain and Ireland who come together to share in worship and fellowship, attend a wide choice of workshops, and listen to inspiring speakers.
It's an opportunity to catch up with old friends and make new ones, or simply to have a little time and space away from the day to day responsibilities.
This year, using the title 'Oceans of justice, rivers of fairness' our keynote speaker is Rachael Lampard, past Vice-President of Conference and leader of the Joint Public Issues Team (JPIT) in Methodist Church House.
We will also be hearing from Ruth Dearnley, CEO of 'Stop the Traffik' and on the Saturday evening Su Hallcroft from 'Artserve' will be performing her one-woman show 'Chosen'.
It promises to be an inspiring weekend and, at this moment in time,  there are a few places  remaining. The full cost of the weekend is £170 and a few bursaries of £150 are still available to those for whom this cost would be prohibitive. Details and registration forms are available from this page on the website:
http://mwib.org.uk/index.php/2017/11/01/oceans-of-justice-rivers-of-fairness/
If you've never been to Swanwick do come along and join us from Fri 20th to Sun 22nd April 2018, it's an experience not to be missed!
Well,  back to the paperwork – or should I say the 'Laptop'. Maybe a quick coffee first!
Blessings  Sandra