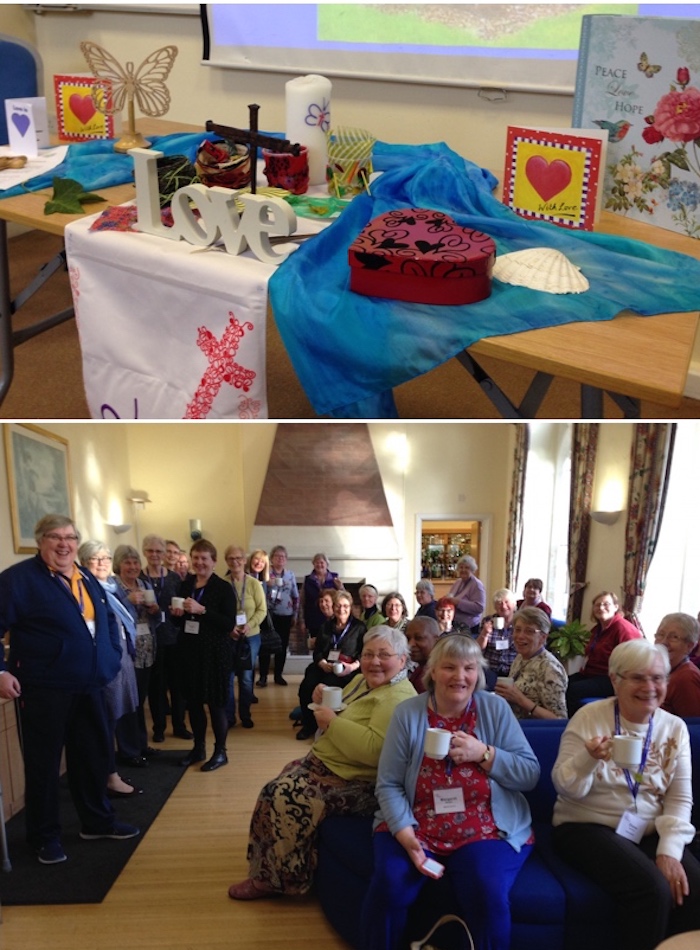 I'm in the process of pulling together final preparations for the coming weekend. I will be sharing in worship, fellowship and fun with ladies from the Yorkshire North and East District at Cober Hill in Scarborough.
The past weekend has been a time of sharing and fellowship too, alongside the busyness of the February Forum meeting that was held at Hinsley Hall in Leeds.
Anne Browse and I took a rather circuitous route to Leeds. Setting out a day early, we made our way to the Swanwick Conference Centre in Derbyshire, to ensure that everything was in place, in terms of meeting rooms and facilities, for the Swanwick Residential Weekend which will be held from 20th to 22nd April. We were made extremely welcome and enjoyed tea and cake 'on the house' !
Hinsley Hall was very quiet when we arrived, but we did warn the catering staff that all would change when our Forum members arrived!
On Friday evening we were joined by Rev Barbara Glasson from 'Touchstone' in Bradford. Barbara told us about the progress made at Touchstone's new premises and gave a 'taster' training session in 'active listening'. We're looking forward to the prospect of working closer together with Touchstone in the future and now have an official agreement signed in the presence of Forum.
The core business of Forum began in earnest on Saturday. This included the interview process for the Vice-President/President role 2018-2022. After a lot of prayerful discernment and discussion Forum made the clear decision not to appoint. We will be re-advertising the role in Spring.
Please consider whether this could be your calling, Anne and I are very happy to talk about this busy but very rewarding role.
'Lord we set our human limits on the work we do.
Send us your directing Spirit, pour your power through,
that we may be free in living and in giving all for you'
Marjorie Dobson StF 664 v 4
 Blessings Sandra