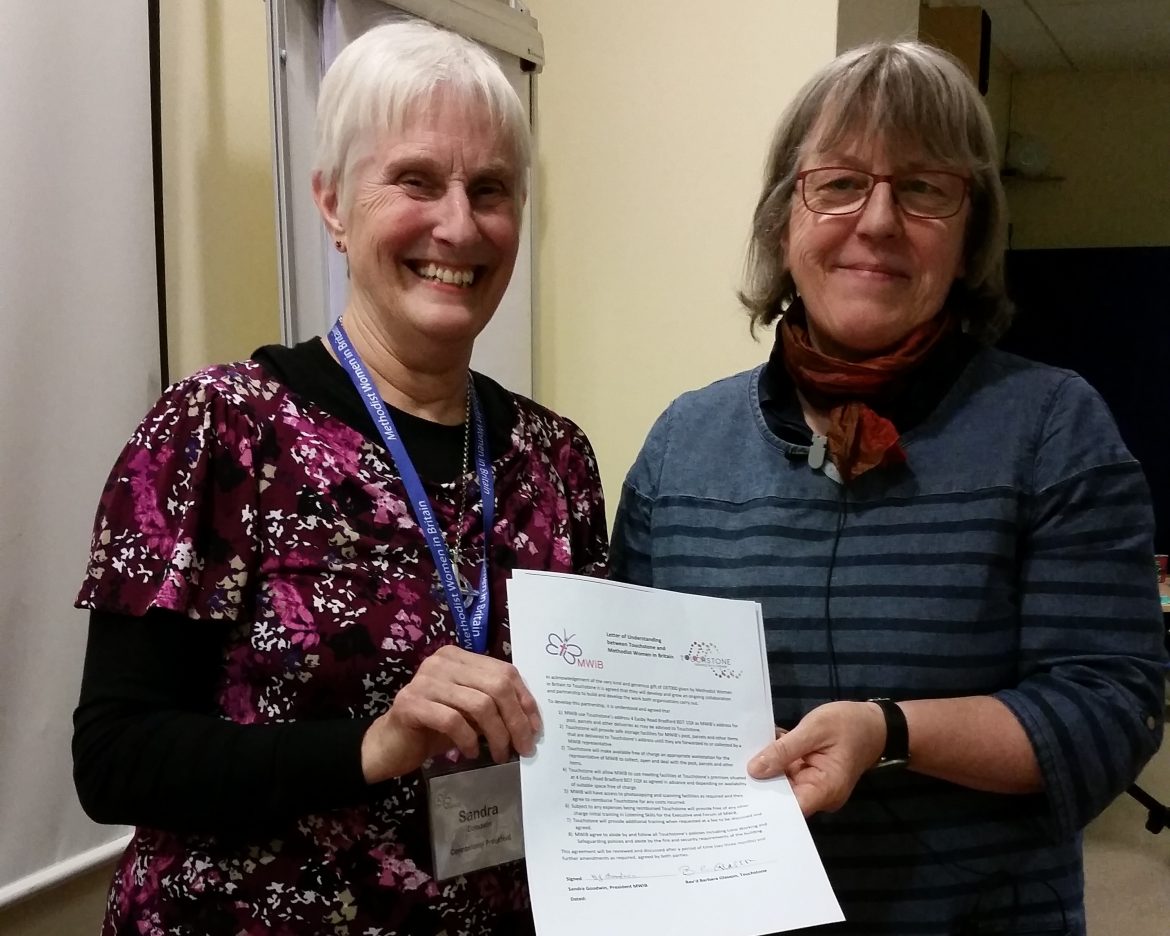 Touchstone is a 'listening community' with the vision of making safe places of hospitality where people who are radically different can listen to and with each other. Based in the heart of Bradford, Britain's most Muslim city, Touchstone has worked alongside diverse communities for 25 years. The Touchstone Centre is sponsored by the Methodist Church in Britain and is open to all. The Centre seeks to enable people of different faith and backgrounds to:
~  understand each other
~  take time to listen to the struggles and experiences people have
~  understand the relationship between England and Pakistan
~  learn to be confident about what Jesus means to us
~  be proud of West Yorkshire people and their heritage
~  have fun together doing creative activities whilst listening to stories
However, Touchstone's current premises have become unfit for purpose – the building is small, with difficult exterior access and interior stairs, and little room for development of the work – and recently new premises have been acquired nearby.
After consultation with the centre manager Revd Barbara Glasson, and with advice from the Connexional Governance Officer for the Methodist Church, to ensure that the aims and objectives of the two organisations were sufficiently aligned to make partnership appropriate, the MWiB Forum which met in September 2017 unanimously agreed that MWiB advance £87,000 to Touchstone, to enable them to complete the refurbishment of their new premises, MacRory's, as a new and more suitable base. (For more information on the project, visit their website)
Touchstone are offering MWiB in exchange: to use it as our official address from which post can be forwarded, use of meeting rooms, training in listening skills and other training, and involvement in inter-faith work.
At the MWiB Forum meeting in February 2018, Revd Barbara Glasson spoke of the history and current outreach of Touchstone, locally, nationally and internationally and about the planned future partnership between Touchstone and MWiB. She thanked MWiB for the financial support for the Touchstone building project, and a letter of understanding between MWiB and Touchstone was signed by MWiB President Sandra Goodwin on behalf of MWiB and Barbara on behalf of Touchstone.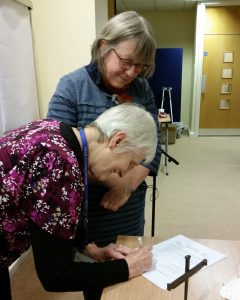 Sandra Goodwin and Barbara Glasson sign the
MWiB / Touchstone Partnership Agreement.
The first joint initiative of this partnership is



which invites you to:
Meet  someone who's different from you
Listen  to someone who needs your ear
Eat  with someone and get to know each other better
Go!  with someone else or on your own, to take a walk or make a change
You can do this as individuals, in pairs, or as a group. When you have done one or all of these, write about your experience on a piece of paper. You don't need to add any personal details—just a few words about what you did and what you learned. The paper should be white and A7 (7.5cm x 10cm).
Please decorate the reverse with cloth, and post it before 1st June 2018 to:
Touchstone, 32 Merton Road, Bradford BD7 1RE
We will roll up your story and carefully put an elastic band around the outside to form a little tube, and these little story tubes will be gathered together in bowls on a long table where others can gather, unfurl your stories, and themselves be inspired to

Barbara will be joining us at the Swanwick residential weekend in April to talk about this initiative, and to lead workshops on the Saturday. The 2019 Easter Offering will also take up this theme under the title 'Longer tables, lower fences' (taken from an anonymous quotation: 'If you have more than you need build a longer table not a higher fence').