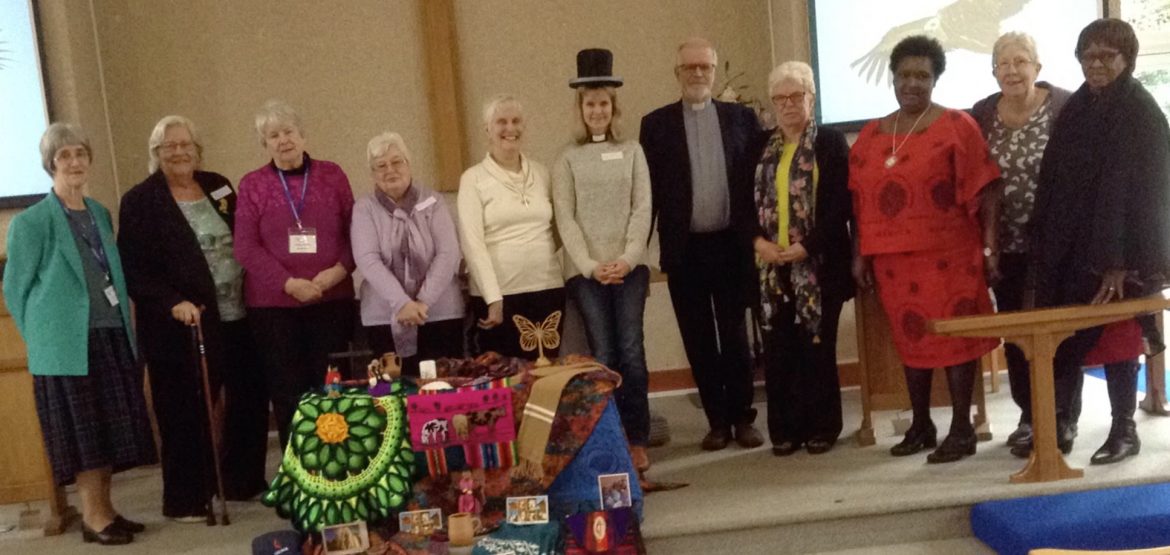 Back in writing mode again on this very damp but mild Tuesday morning. I've had a wonderful weekend in Kent, in part of the South East District. The visit was made even more special for me because it gave me the opportunity to stay for two nights with my friends Bryan and Credwyn Tolhurst at their home in Chatham. It was great to catch up with news of family and to simply relax.
Pictured above, with some of the ladies from the SE District, are District Chair Rev John Hellyer who led the opening devotions and Rev Sharon Lovelock, minister of the host church at Tonbridge, wearing or should I say 'balancing' my traditional Bolivian hat!
Again it was a good time of sharing and fellowship, which I regard as one of the special privileges of my role as MWiB President.
I also had the honour to meet Valerie Anne Ruddle who composed the tune 'Stewardship' StF 727(i), a tune which in its minor key I feel really fits the words of the hymn 'Lord in his love for us lent us this planet' which we just happened to sing that afternoon. What a coincidence!
Having looked at the weather forecast for the coming week, I decided that Monday would be a 'gardening day'. I find gardening very therapeutic, especially in the Spring when new shoots begin to push through the soil and unfurl their leaves.
I had just filled two bags with soil to take down to the church's new 'Herb Garden for the Community' when I received a phone call asking if I could find a home for some black/red currant bushes. Ironically David and I had been thinking about planting fruit bushes but hadn't got 'A Round Tuit' so the timing was perfect, thank you Jo. Isn't it amazing how things just come together at the right moment? The bushes are 'currantly' having a good soaking in rain water!
Blessings Sandra