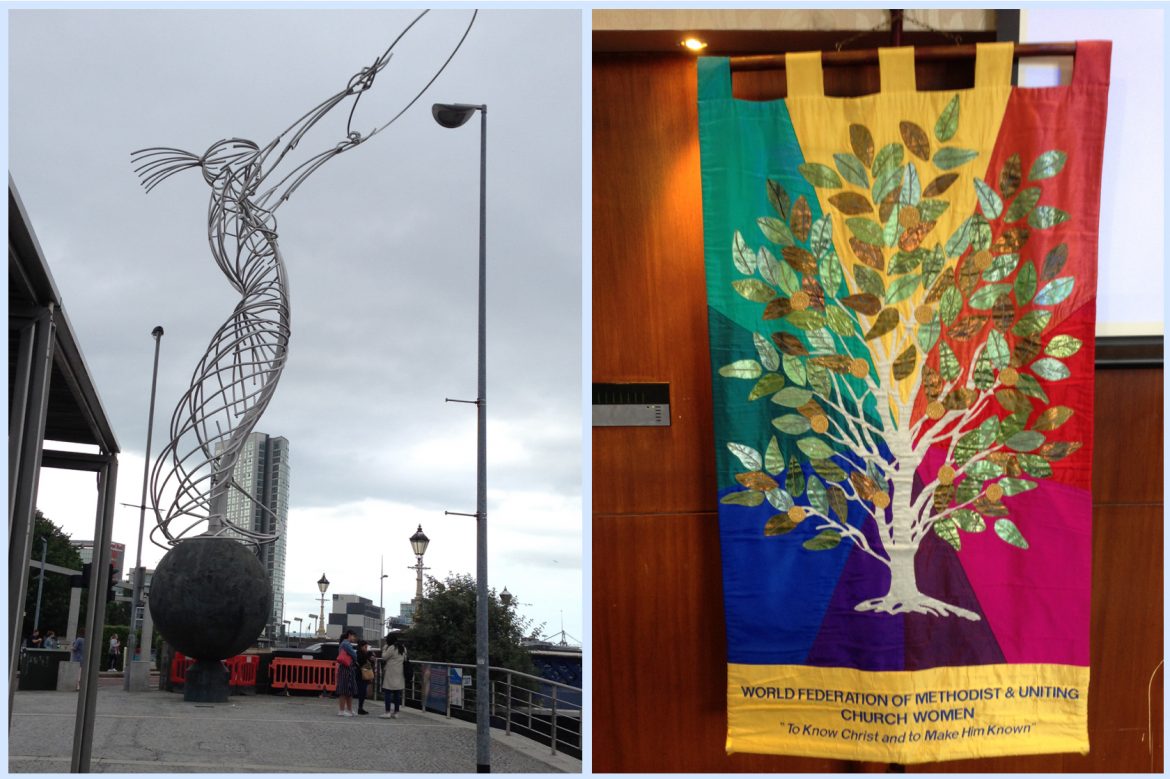 I arrived back from Belfast just 7 days ago but there seems to have been a lot of water flowing under the bridge between then and now.
I was in Belfast along with many friends from across Britain, Ireland and mainland Europe to attend the Joint European Area Seminar of the World Federation of Methodist and Uniting Church Women (WFMUCW). We had an amazing time of fellowship, learning and sharing together.
During a period of free time a friend and I went for a stroll along the river Lagan which flows through Belfast. We came across the amazing sculpture of a girl standing on the globe, pictured above.  Affectionately known by the locals as 'the girlie with the twirlie', the figure represents various themes associated with hope and aspiration. The aim of the sculpture is to bring people together, to change hearts and minds, to work towards a peaceful, happy existence for everyone on this planet by respect for each other, their cultural heritages and aspirations.
The official emblem of WFMUCW is the Tree of Life, based on Rev 22.2, The beautiful hand-stitched banner shown in the photo above is carried across the world to each Area Seminar symbolizing our unity in Christ across the nations. The 12 fruit are symbols of those graces and aspirations found in those rooted in Christ, one of which is 'World Peace' based on respect for one another irrespective of race and culture.
Two very different works of art symbolising the same aspirations, diversity and unity – fascinating!
'On each side of the river stood the tree of life, bearing twelve crops of fruit, yielding its fruit every month. And the leaves of the tree are for the healing of the nations' Rev 22:2
Blessings, Sandra