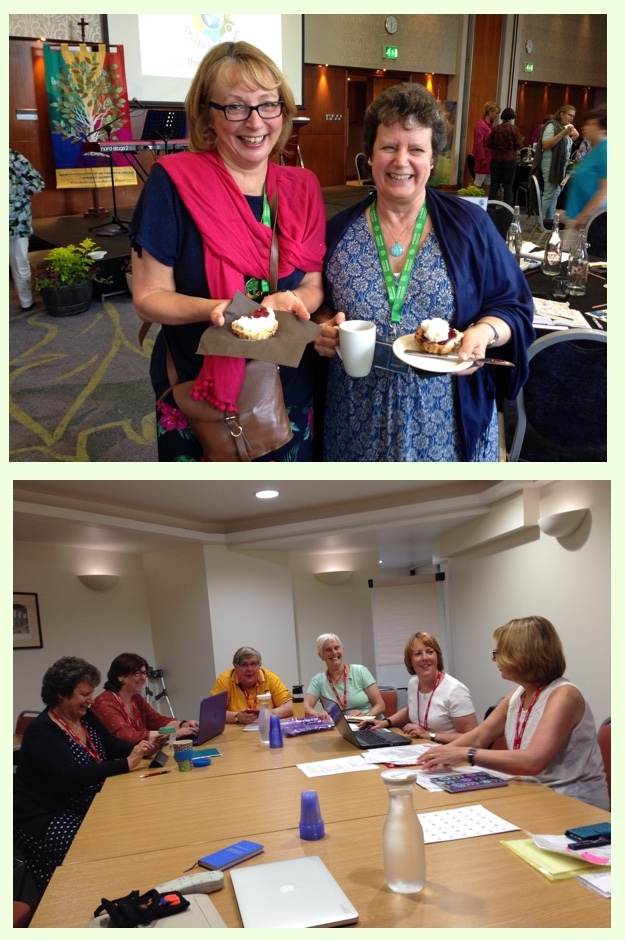 Life is full of making important decisions. For example, which is the correct way to put jam and cream onto a beautiful freshly made scone? Anne and Carolyn pictured above are both from the South West District but as you can see in the photo taken in Belfast each take a different approach. It all depends on whether you follow the Cornish or Devon tradition! Either way they look equally delicious and I'm sure tasted delicious too.
Other decisions may have longer lasting consequences and require much discussion. The MWiB executive meet five times a year to plan ahead and formulate proposals to be brought before Forum, the ultimate decision making body of MWiB.
The meeting pictured above held on 20thJune, was the last time that the current members of the executive will meet together as a team. Gillian Womersley, sitting on my left in the photo, has been our finance officer for the last five years and will hand over to Nina Rawlins on August 31st. Nina, sitting on my right has been shadowing Gillian since her appointment in January.
We thank Gillian for her thoughtful, efficient guidance and hard work and look forward to working alongside Nina over the coming years.
Anne Browse will be stepping down at the end of September having completed her four year term as Vice President / President, but we're not saying our goodbyes just yet. Anne kindly agreed to extend her term until the end of September until the new Vice President is in place.
We pray God's blessing on Gillian and Anne as they make decisions about their future work in His mission.
Blessings, Sandra