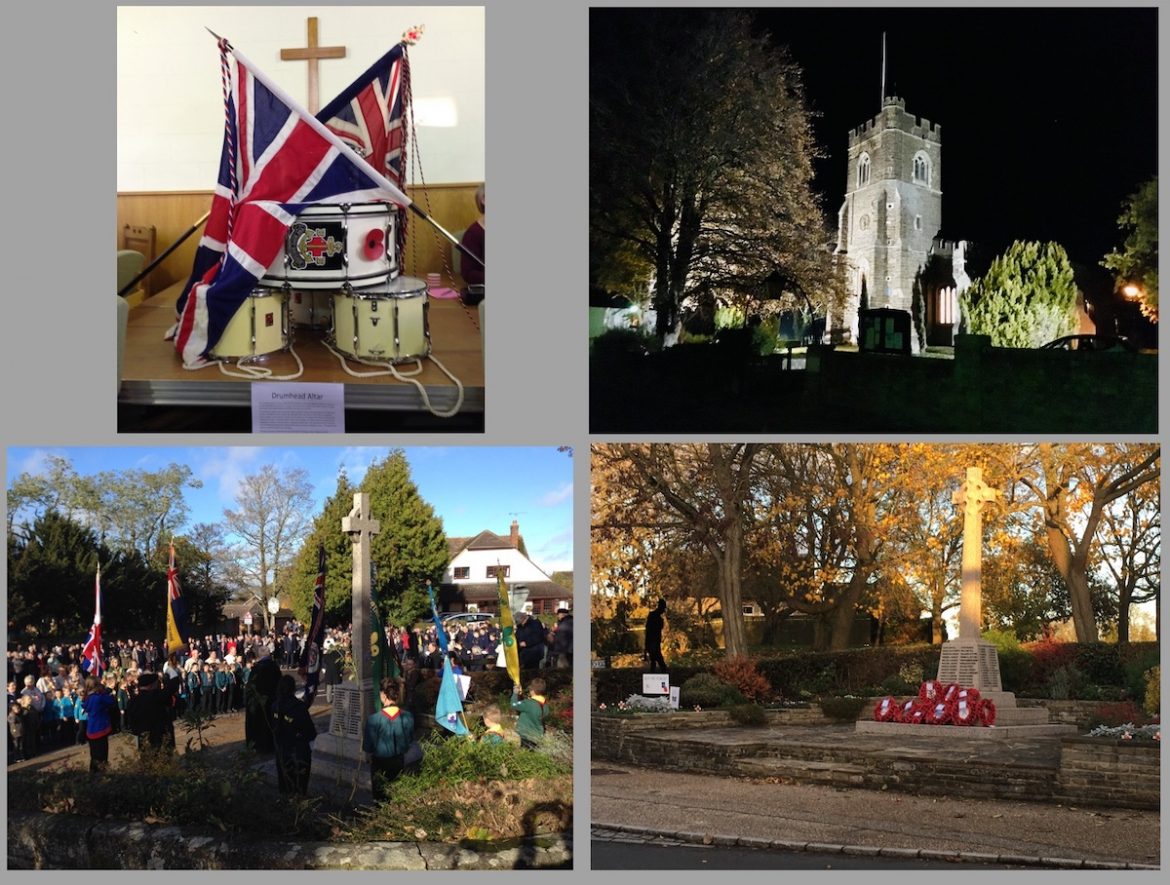 Today the residents of the village of Harlington, along with many towns and cities across the country, have been remembering. Remembering lives lost or permanently scarred in the battles of World Wars 1 and 11 and celebrating 100 years since the cessation of armed combat in WW1.
A group, called 'Harlington Remembers', have worked and researched for months to bring together people, resources and memories to enable us to see, hear and remember past events. This included a village poppy trail with information boards at 39 locations, an exhibition of information and memorabilia, including a Triumph H 'Dispatch motorcycle', a mock trench and a 'Drumhead Altar' (top left) in the Methodist Church, and flower displays and Remembrance book within St Mary's Anglican Church.
Today began with a march around the village by the uniformed organisations led by the Boys Brigade band culminating in a short service, wreath laying ceremony and two minute silence at the war memorial (bottom left and right) followed by a service at St Mary's.
At 1pm the exhibition and refreshments re-opened in the Methodist Church and at 6pm we re-grouped once again for the evening service at St Mary's. This was a service which also incorporated an annual celebration of the life of John Bunyan.
A non-conformist, itinerant preacher, John was held in Harlington Manor before his trial and imprisonment in Bedford jail for his radical preaching in the surrounding towns and villages. He was subsequently released and became a Congregational Minister and prolific writer famous for his work 'A Pilgrim's Progress'.
The day's celebration ended at 7pm when the Church bells of Harlington (top right) joined those across the land in commemoration of 100 years since the end of WW1.
Sadly, we the human race have many lessons still to learn, lessons in love, patience, justice, tolerance and peace. The words below are just two verses of a new hymn used in our morning worship, written especially for this year. A video of this hymn sung by the wonderful Jonathan Veira can be heard at:    https://www.youtube.com/watch?v=QTJ_n70apiQ
Hope for the world's despair
We feel the nations' pain;
Can anything repair this broken earth again?
For this we pray in every place
a spark of Grace to light the way.
Love for the human heart
when hate grows from our fears
and inwardly we start to turn our ploughs to spears
Help us to sow Love's precious seed
In word and deed, that peace may grow.           Ally Barrett
Blessings Sandra