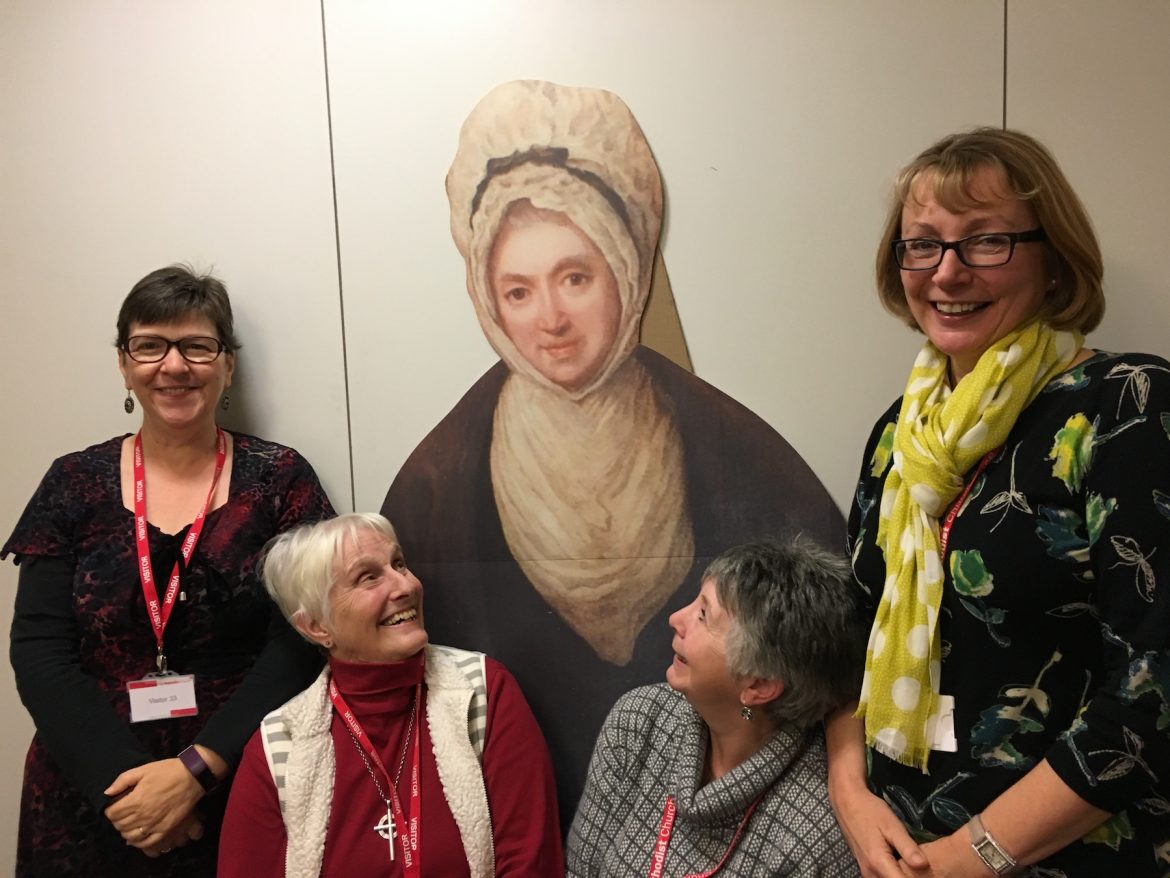 This week we held our first executive meeting of 2019. Nina Rawlins our finance officer was unable to join us on this occasion due to knee surgery however we managed to find a very famous substitute. Pictured above, Susanna Wesley watched over us for the duration of the meeting but was strangely quiet!
January 20th 2019 is the 350th anniversary of Susanna's birth. Two events will mark this occasion, a Prayer Vigil at Epworth Old Rectory in Lincolnshire and a short pilgrimage in London. The pilgrimage, led by Jill Baker, will begin and end at Wesley's Chapel, it will include Susanna's birthplace and burial site and give opportunities to reflect on her faith and the contribution/inspiration that this 'Mother of Methodism' gave to her family, her neighbourhood and the Church.
The pilgrimage is open to all, no booking is required. It includes walking in the street and over paving stones in Bunhills so sensible walking shoes are essential. Pilgrims will gather in Wesley's Chapel with a packed lunch at 12.30pm, set off at 1pm, returning around 2 – 2.30pm and leave at around 3pm.
A service of worship also led by Jill will take place in the Chapel at 11am and pilgrims are welcome to attend.
To commemorate the 350thanniversary Jenny Carpenter, archivist and curator at Epworth Old Rectory has also written the following :-
Prayer to mark 350thAnniversary of Susanna Wesley's Birth – 20 January 2019
 Living, loving God, Trinity in Unity,
We praise and thank you for the life of Susanna Wesley, Mother of Methodism.
Inspired by her regime of private prayer and meditation, may we grow in our devotion to you.
Following our conscience as she did, may we think for ourselves and dare to act on Kingdom values.
Aware of her programme of teaching her children, girls and boys alike, may we value and nurture all in our care, sensitive to individual needs.
Encouraged by her determination to build up the faith of her family and the parish of Epworth, may we lead others to follow Christ more closely.
Discerning the Holy Spirit moving powerfully in the life of the nation as she did, may we be open to new challenges and expect great things from you.
We ask this in the name of Jesus Christ and in the power of the Spirit. Amen.
Jenny Carpenter
Thank you and God Bless you Jenny
Sandra