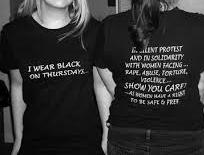 Thursdays in Black t-shirts can now be ordered directly from Creative Christian Clothing. They are available in sizes small to xx large, and cost £14.50 (including p&p).
The t-shirts contain the wording:
[Front] I WEAR BLACK ON THURSDAYS…
[Back]   IN SILENT PROTEST AND IN SOLIDARITY WITH WOMEN FACING… RAPE, ABUSE, TORTURE, VIOLENCE… SHOW YOU CARE!   …AS WOMEN HAVE A RIGHT TO BE SAFE & FREE.
All profits from the sale of these t-shirts are donated to MWiB.
For further information and to order your t-shirt, go to:
http://creativechristianclothing.co.uk/mwibwearblack.html
Methodist Women in Britain, along with the World Federation of Methodist and Uniting Church Women, supports the Thursdays in Black campaign.
"Thursdays in Black is part of an international movement to demand a world without rape and violence. The campaign has its roots in groups such as Mothers of the Disappeared in Argentina, Black Sash in South Africa, and the Women in Black movements in Bosnia and Israel. These groups include Argentinian mothers who gather every Thursday in silence to protest the loss of loved ones under the military dictatorship, women who expressed outrage at the rape-death camps in war-torn Bosnia, and women who oppose the Israeli occupation of the West Bank and the abuse of Palestinians.
However, the Thursdays in Black campaign is not confined only to countries officially at war. In fact, a war against women is being waged all over the world, and has continued for centuries. Its weapons include domestic violence, sexual assault, rape, incest, murder, female infanticide, genital mutilation, sexual harassment, discrimination, sex trafficking.
Wearing black on Thursdays indicates that you are tired of putting up with rape and violence in your community. It demonstrates a desire for a community where we can all walk safely without fear of being beaten up, verbally abused, raped, or discriminated against due to sexual orientation, political affiliation, gender or ethnicity.
It show that you want to be free."
[Text taken from the WFM&UCW website]