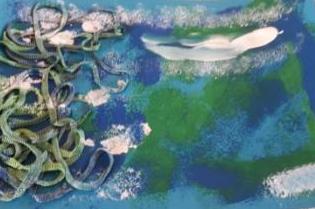 Wednesday March 13th 2019 found 51 ladies from the Lincolnshire District gathering at Gainsborough Methodist Church for their 'Away Day' led by Rev Louise Carr on the theme 'Prayer & Creativity'.
Rev Louise explained to us how she uses her creative skills with material and thread as she prays, finding that the rhythm of sewing and creating enables her prayers to flow. We saw and handled many of her beautiful pieces of work, each for her symbolic of layer upon layer of prayer, often prayer in the most difficult of circumstances. After lunch we had opportunity to try our own hand at prayer through craft and the photos above and below show some of the works created.
More important than the resulting creations were the conversations that flowed around tables as ladies shared and sewed, laughed and sympathised. Finally, refreshed with tea and cake from our lovely hosts at Gainsborough, we set off home, equipped with new possibilities for our prayer life.