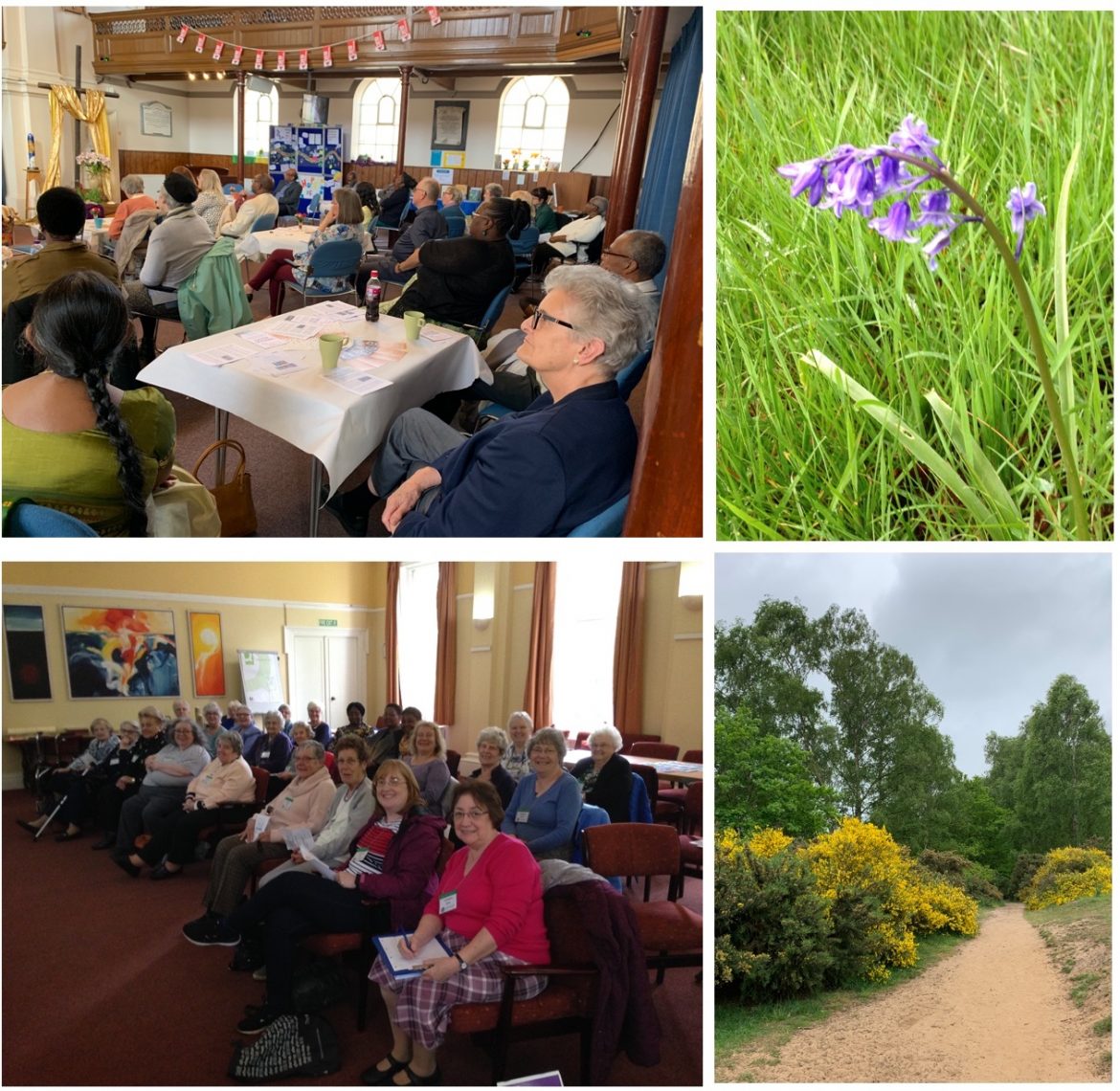 During the last two weeks I've had the opportunity to meet and enjoy fellowship in a variety of ways and venues across four Districts. Beginning with the Birmingham District, I travelled to Woodbrooke Hall, a Quaker training centre in Selly Oak where I enjoyed the opportunity to stay overnight before leading a Quiet Day. Set in beautiful woodland and gardens, where true British bluebells can still be found, pictured above, Woodbrooke Hall is an oasis of calm along the busy A38.
From here I moved to my native territory Nantwich, in the Chester and Stoke District to share tales of the South Pacific Area Seminar and the Solomon Islands with the Ladies Fellowship. After taking the opportunity to visit family and friends whilst in Cheshire we then travelled home to make final preparations for the first of three Easter Offering services.
It's proving very useful to have a husband who is not only a gifted musician but very willing to play organ, piano or keyboard when the need arises! Travelling to Hounslow Methodist Church in the Richmond and Hounslow circuit of the London District, we spent an afternoon sharing stories of Bolivia before enjoying tea and cake prior to the evening Easter Offering  dedication service.
On Monday, still in the London District I travelled to Surbiton in the Kingston upon Thames circuit. This was my third visit to their Network group and it was really good reunite with many ladies I'd met previously. All went really well despite the rather protracted journey home when signal failures led to cancelled and delayed trains.
After a good night's rest I set off once more this time driving cross country to Essex in my own District. On this occasion I had the opportunity to sleep over at the home of my son Andrew and daughter-in-law Sarah who very conveniently live just a few miles from Mistley Methodist Church, the venue for my next afternoon meeting. This was the first opportunity I'd had to catch up with Andy and Sarah (and Monty their 2yr old miniature Schnauzer) for many months so it was very good to enjoy time together.
Yesterday evening David and travelled into London to attend a book launch at Wesley's Chapel. Organised by 'Methodist Heritage' the event was an opportunity to hear and comment upon a book written by Charles I Wallace entitled 'From a Mother's Pen' – selections from the spiritual writing of Susanna Wesley. This was one of many events organised to celebrate the 350thanniversary of the birth of Susanna and there will be an opportunity to meet the author of the book at the Methodist Heritage Conference in July.
Bookings for the weekend conference are available on the Methodist Heritage website.  Entitled 'A Bright Succession' it has a very interesting and varied programme with keynote speaker Revd Dr Barbara Glasson and an event at Epworth Old Rectory.  It will be held on 12th – 14thJuly in Lincoln University.  Further details may be found at:  http://www.methodistheritage.org.uk
Today we decided would be a 'chill out' day so, clad in walking boots, David and I set out for Ampthill Park where we enjoyed fresh air, exercise and birdsong amidst yellow broom, giant oaks and horse chestnut trees – the perfect way to unwind and enjoy Springtime at its best!
Blessings Sandra