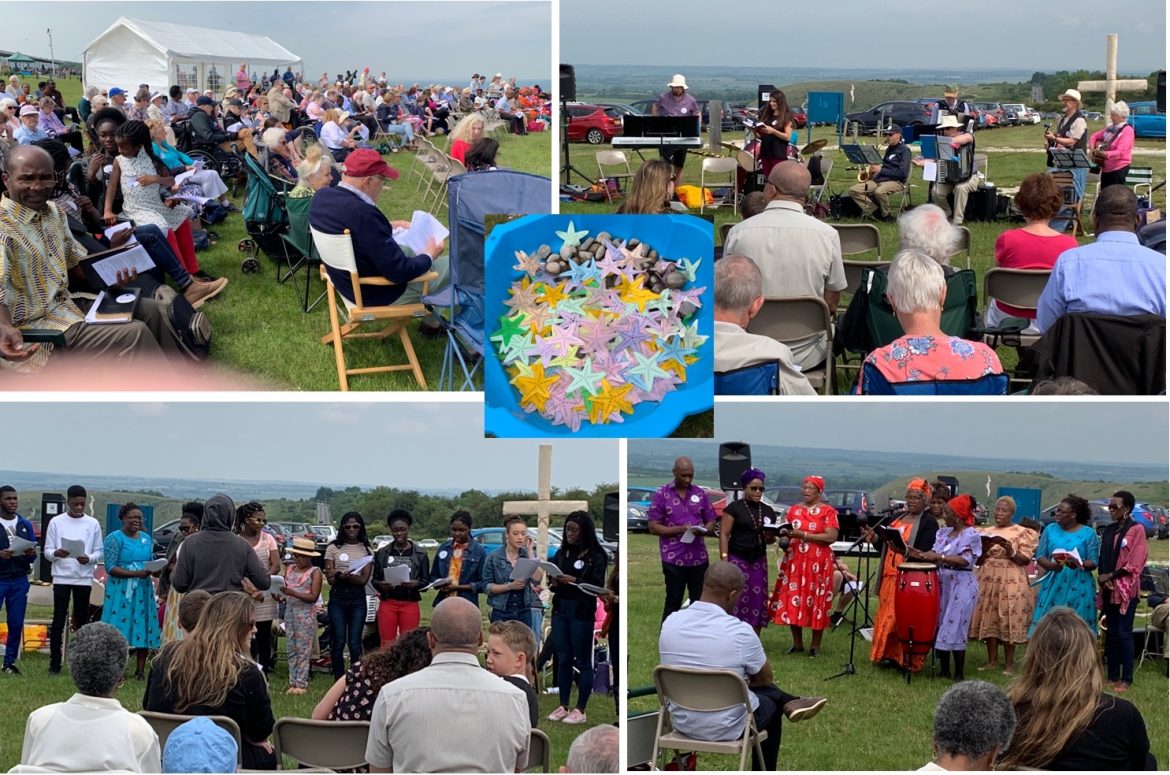 I'm writing this blog looking out at a very soggy garden and clouds full of rain.
Fortunately, this was not the case on Sunday when the day dawned brightly with a gentle, warm breeze. David and I set off to 'Dunstable Downs', the highest point in the East of England and one of the best-known viewpoints on the Chilterns ridge. The chalk grasslands of the Downs have miles of footpaths and circular walks to enjoy and is a fantastic place to fly a kite, enjoy a picnic and share a service of celebration and worship based on the theme 'God's Blue Planet – we're only a drop in the ocean?'
Members of the South Beds Circuit pictured above gathered to worship, to share fellowship,  and to catch up with old friends and meet new ones. What better venue was there to hear the story of Creation as told in the book of Genesis and to think about our responsibilities as God's people and custodians of our home here on the blue planet? I was delighted to sing, for the first time in years, the following song by Jesse Reeves and Laura Story before sharing our picnic lunch.
'From the highest of heights to the depths of the sea, creation's revealing your majesty
From the colours of fall to the fragrance of spring, every creature unique in the song that it sings.
All exclaiming – Indescribable, uncontainable,
You placed the stars in the sky and You know them by name.
You are amazing, God! All powerful, untameable,
Awestruck we fall to our knees as we humbly proclaim,
You are amazing, God!'
You see the depths of our hearts and you love us the same.
You are amazing, God!'
                   Jessie Reeves and Laura Story 2004
Blessings Sandra