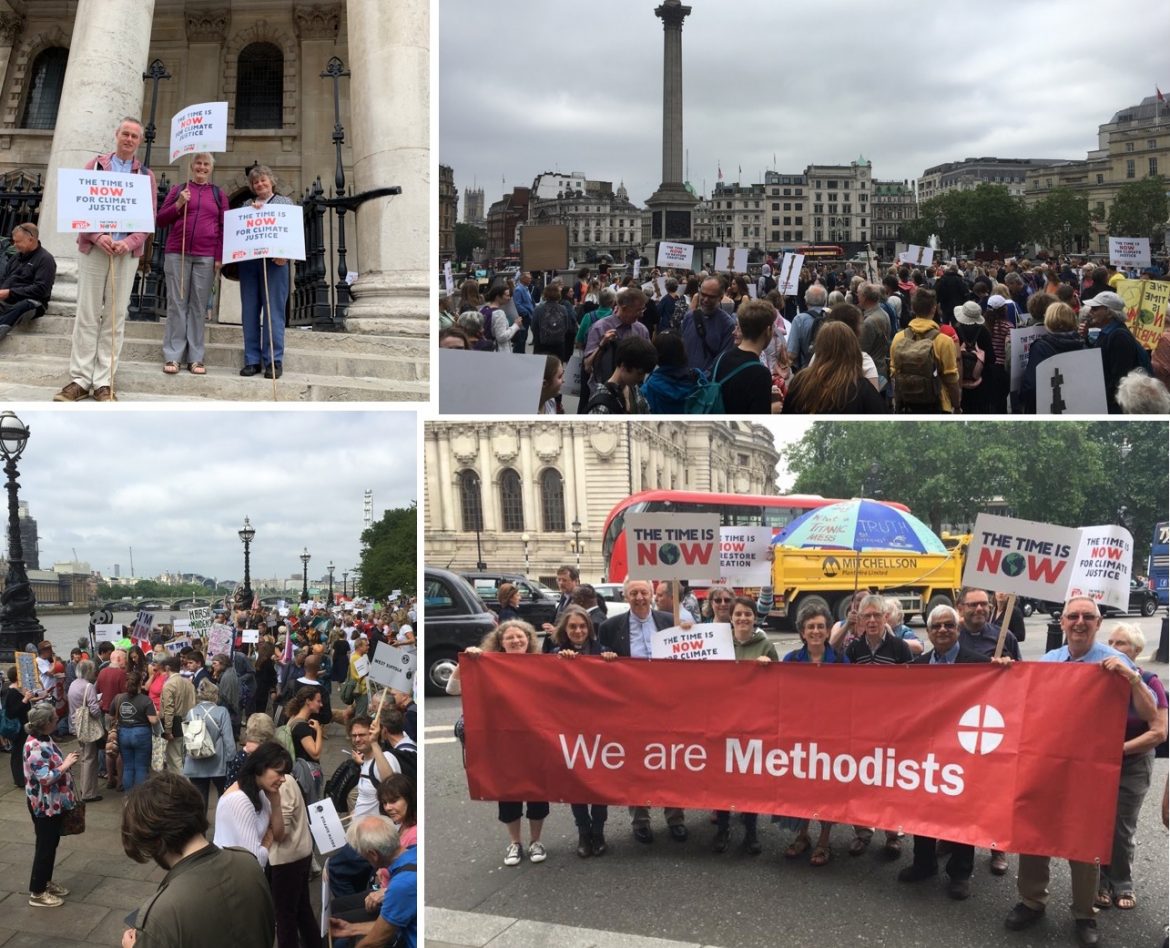 As some of you will know I am passionate about water. Over the last two years I have been visiting districts, circuits and individual churches, often raising the issue of the effects of unsafe water, time taken to collect water and the devastating effects that climate change is having across our world.
Sadly the effects are felt most by those least able to deal with them, for example I had first- hand experience of the issues faced by subsistence farmers in the Altiplano area of Bolivia and communities forced to leave their disappearing island homes in the Pacific.
Last Wednesday David and myself, along with other members of our local church in Harlington, travelled to London to join thousands of like-minded people from across Britain to demonstrate our concern and lobby our MPs.
Gathering in Trafalgar Square we marched through Westminster to the banks of the River Thames where representatives from every constituency from across the UK were lined up in alphabetical order within Regions. A large percentage of MP's or their staff, listened to our comments and concerns. We recognise the huge issues faced by the implementation of  change but 'the clock is ticking' in so many ways for our planet, its natural diversity and inhabitants. If we were willing, Britain could become a flagship nation, leading the way to change the way we do things to protect rather than destroy, to be true custodians of God's wonderful Creation.
We can all do our bit to conserve water, to reduce waste and pollution – one step at a time, one drop at a time, where we are – 'The time is Now'.
'God in his love for us gave us this planet,
Gave it a purpose in time and in space:
Small as a spark from the fire of creation,
Cradle of life and the home of our race.
Earth is the Lord's it is ours to enjoy it,
Ours as his stewards to farm and defend.
From its pollution, misuse and destruction,
Good Lord deliver us, world without end.'
Singing the Faith 727i by Fred Pratt Green
Blessings Sandra