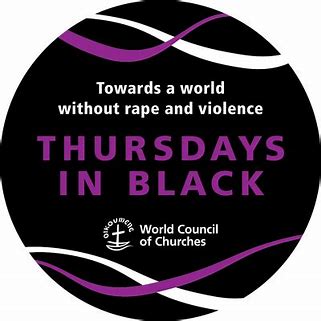 Many of you will be aware of the Thursdays in Black campaign, which was initiated by the World Council of Churches, and which the World Federation of Methodist and Uniting Church Women, and Methodist Women in Britain support.
Many of us seek to wear black on Thursdays each week and/or to wear a badge to show our quiet support for the movement and the ongoing need to stand against gender based violence.
The campaign was inspired by the 'Mothers of the Disappeared' in Argentina, when soldiers of the violent dictatorship forced their way into homes and took the men, then later often returned to rape the women. So, the women [Mothers and Grandmothers] who traditionally wore black would gather in the Plaza De Mayo every Thursday, silently protesting against the disappearance of their children. The Women in Black movement in Israel and Palestine still stands against war and violence. In Rwanda women protested against the use of rape during the genocide years and the Black Sash movement in South Africa stood against violence to black people during the apartheid years.
This is a movement I feel impelled to support as there is still much to be done to protect women and girls especially, from violence in difficult and traumatic circumstances, for example we know that such violence escalates in situations of war and heightened tensions. It links closely with my interests in human trafficking and migrancy.
There is a new initiative to help raise awareness of the issues. Bishop Rosemary Wenner has instigated the idea, and invites groups and individuals to make 30 by 30cm [1 Foot] square panels [with a 1cm [1/2 inch]] added all round so they can be joined. The majority colours are requested to be the colours of the logo – black, purple or white, and the design is free choice on the theme, but could include words, and/or images.
I will be bringing information about this to MWiB's Forum over the first weekend of October, and hope that there will be positive responses. Further details can be found at www.thursdaysinblack website. Completed panels should be sent to Nicole Ashwood, Just Community of Women and Men, World Council of Churches, P.O.Box 2100, 1211 Geneva 2, Switzerland. Phot of work in progress are also welcome and can be sent to sara.speicher@wcc-coe.org
It is hoped that the first of the completed panels will be displayed during the first quarter of 2020, so these will need to be received by 20th December 2019. Panels can still be sent through 2020 and into 2021 and it is hoped there will be many on display at the World Federation Quinquennial meeting in Gothenburg in August 2021.