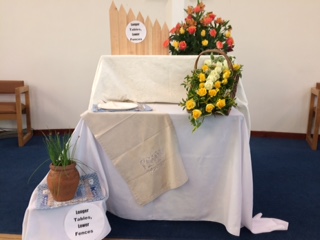 Around the Connexion, churches have been celebrating and dedicating the Easter Offering 2019, on the theme of 'Longer Tables, Lower Fences'.  Cornwall District MWiB President Jill Nute sums up the service and its impact across the Connexion. (Their service, led by Revd Sally Long, was held in May at Lanivet Methodist Church in the Bodmin, Padstow and Wadebridge Circuit.)
Jill writes:
The service commenced with an introit, sung prayerfully by the Millpool Chorale, which also rendered beautiful music throughout the Act of Worship. We were challenged as we listened to stories of longer tables and lower fences from Britain, South Africa, Bangladesh, Germany and Ethiopia shared by members from across the Circuit.
Reflective piano music enabled us to quietly consider how we might lengthen tables and lower fences within our own communities.
After the Easter Offering was collected and dedicated, a Cream Tea was provided by the Lanivet ladies. It was an uplifting time of worship and fellowship enjoyed by all.
Main image, above: a display prepared for the service at Ashbourne Methodist Church, Notts and Derby District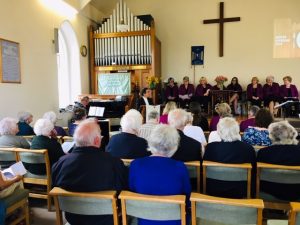 Above: The congregation at Lanivet Methodist Church, Cornwall

Below: Sharing stories from around the world at the service in Winchester