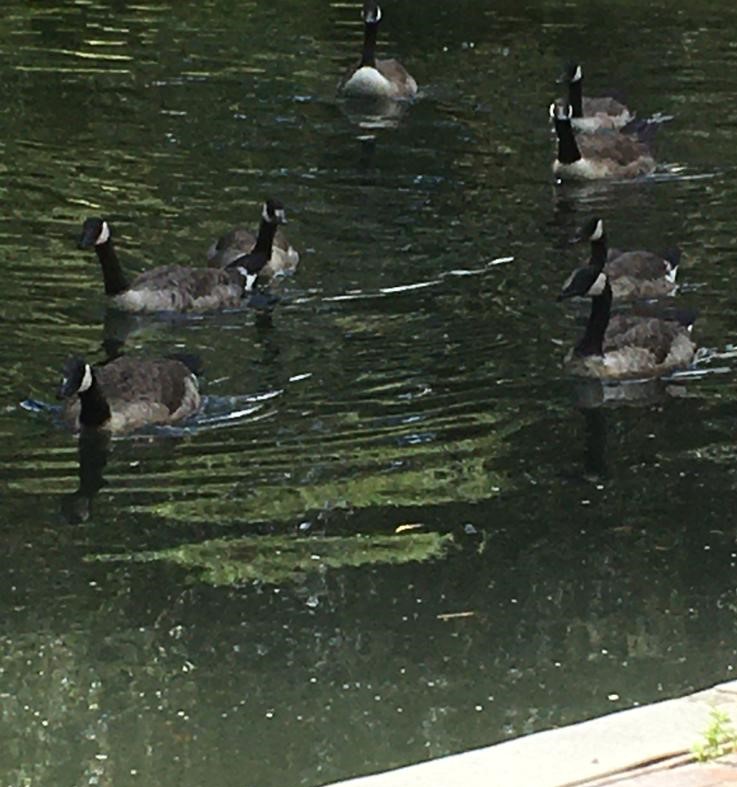 The world is beginning to open up as we gradually gain confidence to travel a little further and see a few more people. This weekend we met some of our family at a nature reserve near Newbury, and discovered a path that leads to the nearby Kennet and Avon canal. We emerged onto the canal path very close to a lock. There was no sign of life on the canal and just a few walkers along the path. So, the children explored how to cross to the other side along the lock gates and we set up our picnic lunch using the wooden arm of the lock gate.
After a while one of the children spotted something moving towards us along the canal. Two women came into view paddling a canoe. They pulled into the side, efficiently lifted out the canoe, carried it around the lock, and resumed paddling. They were obviously well used to this practice.
Next came ten geese slowly swimming towards us. They stopped when they reached the lock , put their heads over the edge to sample some of the grass. One hopped out and seemed to stand guard, watching the path, as one by one the others joined him. [We assumed it was a 'him']. Most were slightly smaller than the 'guard' and we surmised they were this year's goslings. They snacked on the grass, as we all watched. The children saved sandwich crusts and ventured closer to throw a few pieces of bread, despite having been hissed at by some geese a week previously. The children and the geese kept a social distance, and fears subsided.
A cycling couple stopped and used the opposite arm of the lock gates to sit for lunch. It turned out that they had three children [all grown], but two had the same names , and in the same order, as the grandchildren, so a lively conversation ensued.
As we finished eating a canal boat appeared. We cleared our lunch remains, and watched as the lock gates were operated and the water level changed. The children helped to push one of the gates, talking to the boat owners, asking questions and watching carefully. A second boat arrived just as the gates opened and both boats filled the lock, while the helpers moved to the other end and repeated the operation, still chatting to the boaters.
So, we were well entertained during our lunch time. What began as a quiet interlude, became an hour filled with fascinating experiences. The canals had been closed to water traffic during the last few months, and have only very recently started to carry people again. As I reflected on the day the pleasure from just observing activities,  talking to different people, and watching nature, had cost us nothing in monetary terms, but had given us all memories to hold on to.