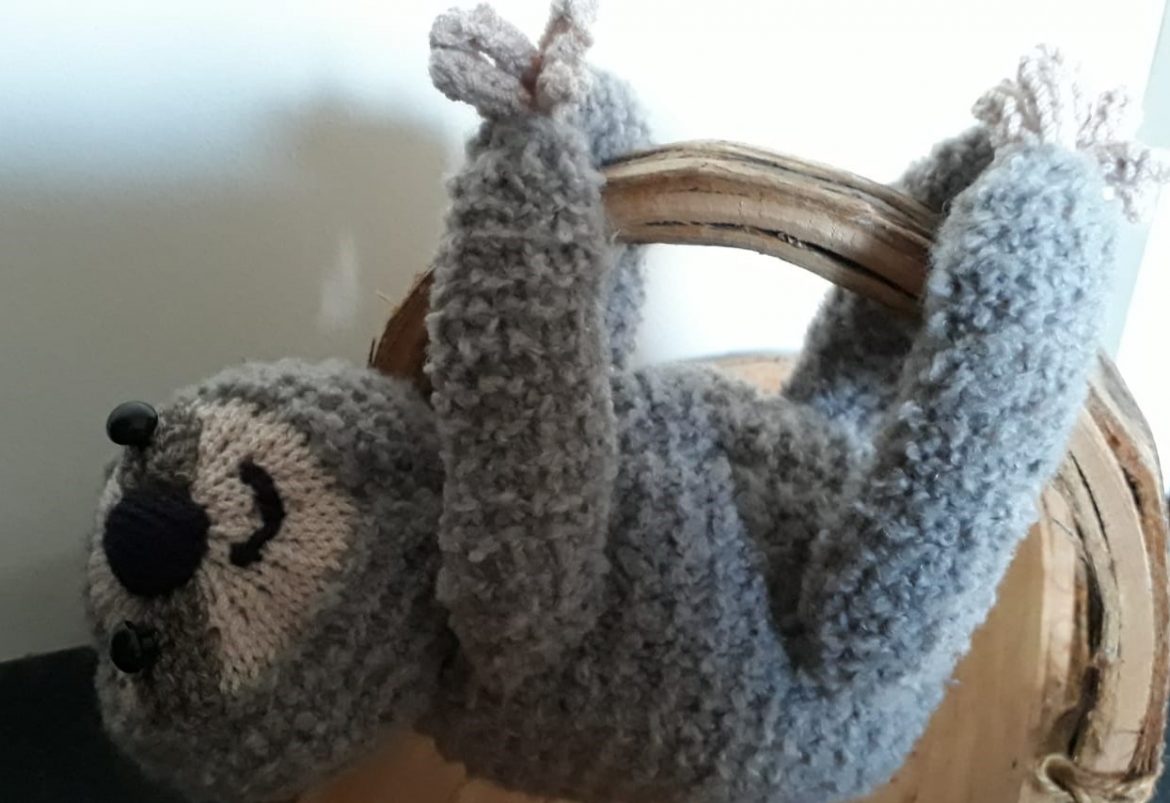 One of my granddaughters loves to climb trees. She regularly climbs the apple trees in her garden and will sometimes hang by her hands and feet pretending to be a sloth. She is interested in animals, and listening to her talk about sloths prompted me to find a knitting pattern and make one for a bit of fun.  At half term she came to stay on her own for the first time. We had a lovely day as she raided my craft stock and created a range of items. It was good to be able to chat one to one and to spend time in each other's company, as there is usually competition from her brother and sister when we see each other. I love spending time with all my grandchildren, but there is something extra special when there is an opportunity to have some time with them individually. One of my great pleasures is being able to watch them grow and develop. It is fascinating how each personality is distinct, and how the natural traits that they have inherited shape their interests. There are of course familial similarities, but we have a natural mathematician, a budding engineer, a story maker, a lover of anything outdoors, and an organiser.
Generally, they all get along well within their own family units, and when they have opportunities to get together. From time to time they will all descend on us [ in normal times] and we stretch the house walls to accommodate them all.
Of course, this year has restricted our gatherings, as we need to drive to visit one another, but we did manage a few days in adjoining flats in the Summer, and we're praying hard for the end of the year.
I think we, as a family, all recognise that we are very fortunate. There are so many in much more challenging situations. There are so many reports of people struggling in one way or another, which tugs at the heart strings. The desire to offer help in some way can become overwhelmed by the sheer volume of need, leading to a danger that one does nothing because it is too hard to prioritise. We are approaching a time of year when charity appeals seem to drop through the letterbox daily, and are highlighted in various ways through the media. This year has necessitated many charities reducing their focus as their income streams have diminished, yet the needs have increased. So, my hope is that all who are able will choose a cause that has meaning for them, and give what they can, enabling a slightly better situation for those on the margins.
This may, of necessity, be a year to reduce the commercialism of recent years. That may not be a bad thing. It may help us to appreciate a simpler approach to life, to realise that we can live well with less.