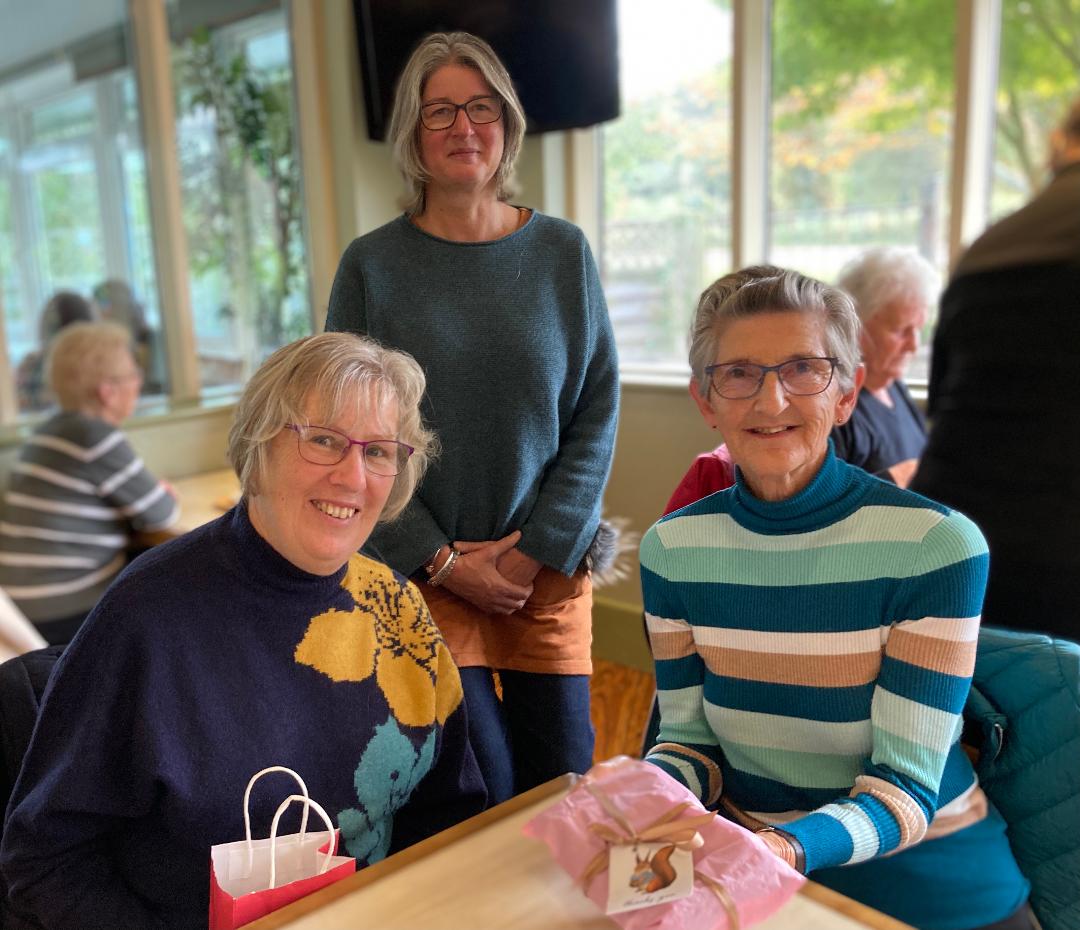 Cornwall and Isles of Scilly District Methodist Women in Britain:
celebrating the inauguration of Revd Cathy Arscott as District MWiB President
Our Autumn District Days are always special and even more so every alternate year when our new President is inaugurated. It's a day when MWiB members in Cornwall can meet together with worship, communion and fellowship, seeing friends from all over the county who we may not have met since the previous District Day. This year was to be extra special as it was to be held at Launceston Central Methodist Church and Revd Cathy Arscott from Launceston Area Circuit was to be inaugurated as our President for the next two years.
However, the Corona Virus restrictions meant that our service couldn't go ahead as planned but we certainly weren't going to allow the inauguration and handover from the previous President, Mrs Jill Nute, to Revd Cathy to go unremarked and not celebrated. Thanks to modern technology we decided to go ahead with a service on Zoom, not a whole day as this would be far too long but for two hours. The fellowship and cream tea would be missed but break out rooms after the service would go some way to alleviate that. The service was planned for 16th September, hymns and prayers were chosen and participants invited and invitations sent out to every circuit in the District and to many guests.
Rev Jo Smart was invaluable in managing the technology of sharing screens and choosing the right videos to accompany the hymns and our District Chair gave us much support and was happy to'do his bit' from his office at home. It was also good to have Revd David Miller, our new Launceston Area Circuit Superintendent, with us to lead us in prayer at the start of the service. Because of the support and enthusiasm from everyone involved, the Zoom Service on 16th September went extremely well. Revd Steve's address was excellent and inspirational – he is a great supporter of MWiB and we thank him for this.
Each President holds office for two years, and for that time chooses a charity for which the District MWiB raises funds. Revd Cathy's chosen charity is Kernow Young Carers. This is a project run under the auspices of Action for Children and aims to make the caring role a more positive experience for children, young people and young adults by offering support, information and advice, activities and trips and in many other ways. Jamie Lee from Action for Children spoke at the Service and showed a video featuring many young people who have been helped by this charity. Launceston Area Circuit MWiB Committee will be planning events to raise funds for Kernow Young Carers – probably virtual online ones for the time being until such time as we can meet together in person again.
Our Committee thanks all those involved, particularly Revd Steve Wild, Revd David Miller and Revd Jo Smart, together with Revd Anne Curnow who read the Lesson and Jamie and Kevin from Action for Children for their presentation.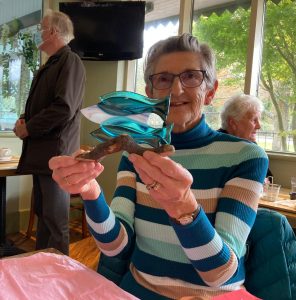 The two photos featured were taken after the Zoom Day during the period of the 'rule of six' when the outgoing President Mrs Jill Nute, the new President Revd Cathy Arscott, and the new Deputy Vice President Mrs Tracy Lyall, could meet to present a gift to Jill Nute as thanks for all she has done for MWiB over the last two years and helping to raise £7,000 for her chosen charity, Mary's Meals.
Main photo shows (left to right), Cathy, Tracy and Jill, and the smaller photo (above) shows Jill with her gift.