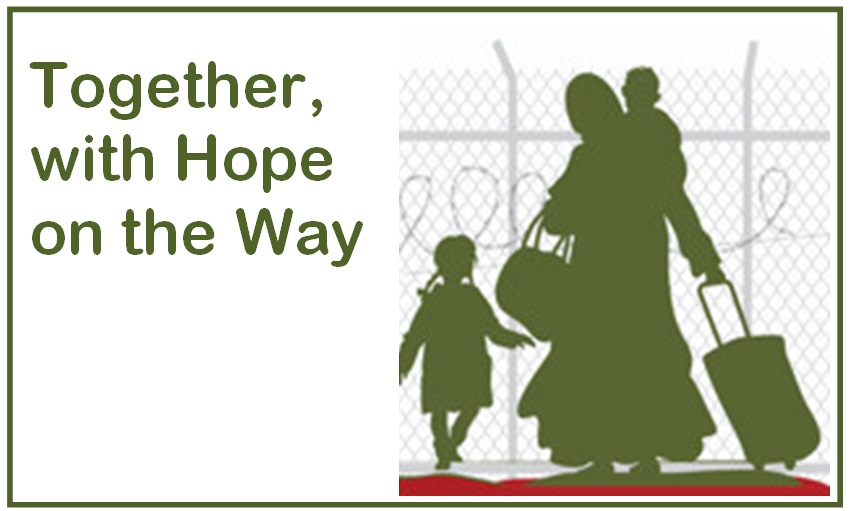 BOOKINGS FOR THIS CONFERENCE ARE NOW CLOSED
Following the huge disappointment of having to cancel the weekend at Swanwick in 2020, we have been determined to offer something in 2021, but sadly, we have made the decision not to meet face to face at The Hayes because of the ongoing uncertainties of life with Covid 19, and the need to keep everyone as safe as possible.
However, we are delighted to be able to invite you to 'Together, with Hope on the Way', an online conference taking place on Saturday 17th and Sunday 18th April 2021. It will be different to our previous conferences, but nevertheless is an exciting new venture, which will be accessible to a wider audience.
Our keynote speaker Sister Imelda Poole will be joining us 'virtually' from Albania, to talk about her work educating and training young people to help prevent them becoming trafficked. Imelda is a Sister of the Mary Ward Loreto Foundation, Chair of 'Renate', and an international speaker on the subject of human trafficking.
MWiB President Hilary Evans writes:
"I first came across Imelda's work when I was invited to join the Southampton District organising group of MWiB. The Southampton group were moved by accounts of the work in Albania, which is a hub for international trafficking because of its geographical position. A small group visited, which led to setting up a partnership with Sister Imelda's charity.
"At about the same time my own church was following the 'Holy Habits' programme based on Acts 2, by Andrew Roberts. When the topic was 'service' it was decided to run a workshop day to look at various ways that a church might focus on, and support, a key issue. Trafficking and modern slavery was chosen as the theme. I began to do more research, and was astonished and dismayed that at least 40 million people globally, are forced against their will into a range of activities, and over 71% are women. Not a single country is exempt.
"As MWiB President I hope to make more people aware that trafficking is the second greatest illegal activity worldwide, second only to drugs."
Building on the work of previous generations of Methodist women, MWiB continues to support those in need, especially women and children, and to tackle issues of injustice including human trafficking. We hope you will join us for this year's conference.
2021 also marks the tenth anniversary of MWiB. Following on from the Conference itself we hope you will also join us for a time of celebration on Sunday 18th April
COST – BOOKINGS FOR THIS CONFERENCE ARE NOW CLOSED

We are asking that all participants consider making a donation towards the cost of bringing you this online conference, and suggest an amount of £10 per person. You can donate online here.*
* Donations can be Gift Aided if appropriate, and please  write 'Swanwick 2021' in the Message box.
Alternatively you can send a cheque payable to 'MWiB' to:
MWiB – Swanwick 2021, c/o Touchstone, 4 Easby Road, Bradford  BD7 1QX
BOOKINGS FOR THIS CONFERENCE ARE NOW CLOSED

Register your interest for this online event.
Further information and joining instructions will be sent nearer the time.
Your prayers for this conference will be greatly appreciated, and we hope that we will be able to gather again at The Hayes in 2022.