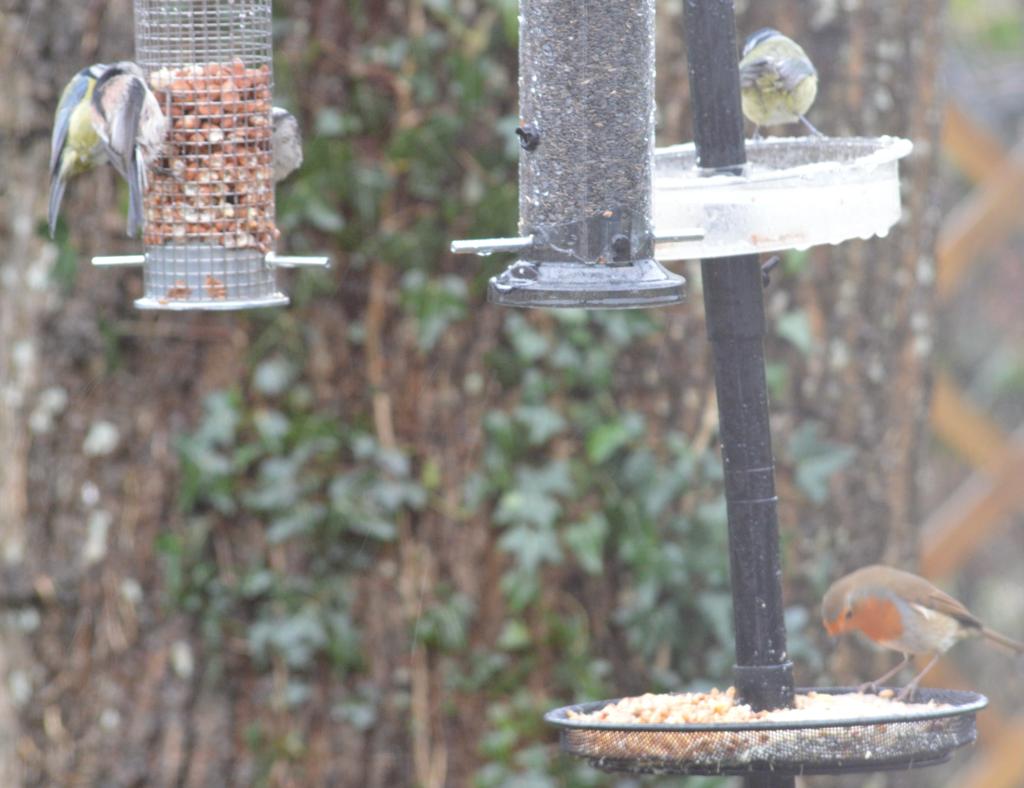 The lockdown restrictions have curtailed many things, but for my husband and me it has created enough space to really watch our garden birds. We invested in a new bird feeder, placing it just a few metres from the back of the house, but close to a large tree and several shrubs. There is constant stream of visitors during daylight hours, many moving so fast it is almost impossible to accurately identify which species they are. Often, when the feeders are in use, others will line up on the surrounding shrubbery to wait the moment that they can fly in for a turn. There is definitely a 'pecking order'. The smaller tits are very wary when a woodpecker is eating, most other species stay away if a magpie decides to come for a feast, and nuthatches can be dominant while eating. Blue tits and great tits are probably the most plentiful visitors, but long tailed tits and gold finches are not far behind. Yesterday two goldfinches sat for at least twenty minutes either side of a feeder once they had eaten well, looking around the feeder at each other and just taking an occasional nyger seed. There is a robin who likes to sit for a while seemingly watching what is going on, while on the ground the chaffinches, sparrows and dunnocks pick amongst the stones. Recently a group of pheasants have taken to joining this company – a male with several females in tow. Then one or two blackbirds chase each other in their straight runs towards one another which always makes me smile. It just looks like a game, while every now and again a tree creeper works it way up the lime tree, so well camouflaged that it could easily be missed. In fact it is only because of taking time to watch more that we have spotted it. Similarly hard to see are the wrens, who we know live in the garden but are only occasionally seen.
A few years ago we were sitting with some of our family enjoying a warm sunny day under the pergola, when out of the body of a tall sculpture [known as Big Bird] that sits nearby dropped a wren, then a baby wren, then another and another. The drop was about 70 or 80 centimetres – a long drop for a tiny bird. The first two babies  quickly were on their feet and running to their mother who had hidden herself in a bush the other side of the path. The third baby had a damaged leg and followed but was obviously finding it more difficult. We wondered whether it would survive. Until that afternoon we had no idea that wrens had nested in Big Bird.
There is such rich variety in our garden, beautiful creatures with individual habits and what might be described as personalities. It is fascinating to watch them negotiate around each other. Some species are more dominant, but it is rare to see aggression between them. They are broadly tolerant and patient. Maybe there is a lesson here for us.
As we begin the Week of Prayer for Christian Unity, seeking to abide in Christ, may we recognise and respect the variety amongst people, work towards greater understanding between tribes and nations so that the fruits of Christ's love will be evident.
'Abide in me and you will bear fruit'. John 15:5 – 9