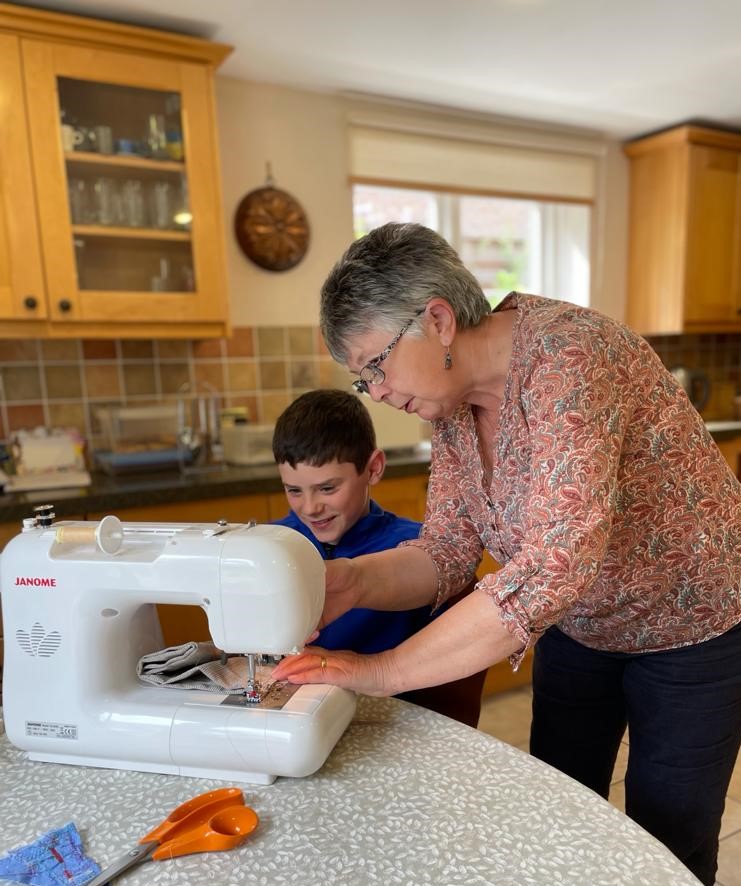 What a lovely week it's been! After all the rain of May, the sun decided to show through, and fortunately coincided with half term for many of the schools. For me this brought the opportunity to see family  – to host them, cook for them, share stories, play and create with grandchildren, and generally have some relaxed fun. It has felt like a real treat.
My eldest grandson, who is now eleven, has recently discovered a liking for sewing, and was keen to engage in a project knowing that I usually have a stock of materials, as well as a history of various projects involving stitching. So, we talked about some ideas and looked at my 'stash' of fabrics. He decided he would like to make a cushion for his recently decorated bedroom with a pocket to hold his current book. We agreed it would be best to stitch with a machine, so I set up mine on the kitchen table, and a first lesson in its use followed. He did really well keeping a straight line for the seams and then following the raw edge with a zig-zag stitch to prevent fraying. The end product was very presentable, and he was very pleased. Then his younger brother wanted to have a go too. He didn't want to copy his elder brother so decided on a drawstring bag. He also kept a pretty straight seam line, taking a steady approach to the task. He needed a bit of help threading the cord through the channel so that the bag could be drawn up. It is a fiddly job. In the end there were two happy boys with their respective achievements.
We spent much of the time together outside, including a trip to the local park where there is a challenge of climbing one of the poles that bend in two directions vertically, with a fixed ball about half way up, and another at the top. It was very hard. The pole was slippery and the challenge significant, but after a good many attempts each managed to sit on the half way ball.
A trip into the New Forest resulted in a rather longer walk than we had intended, as we found our way through areas where the ground was still soft after May's rain. We shared the space with several groups of ponies; one group passing us on a mission to somewhere, while others grazed quietly in open areas. Two young foals, still unsteady on their legs, stood or lay near their mothers. Needless to say the children particularly enjoyed watching them.
So, a few days passed too quickly, encompassing Grandad's birthday, playing games in the garden, and simply being together. A time for smiles, even a hug or two and for giving thanks.