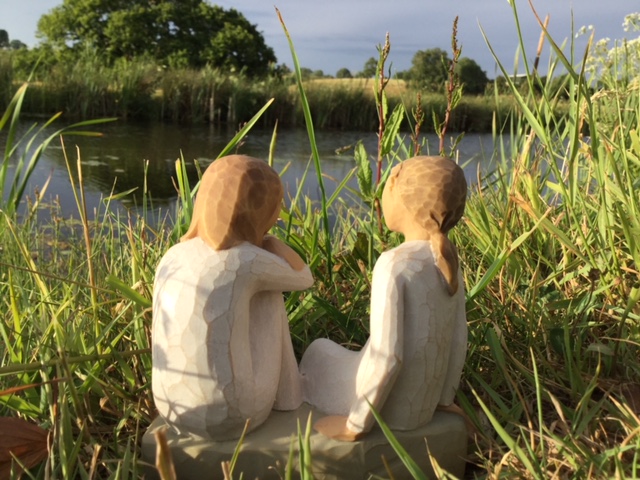 For the next two years, we have invited special guest writers to contribute our Weekly Prayers. This month, we welcome former MWiB President Anne Browse. Anne writes:
As I wondered where to focus these reflections for the month of July, I found myself returning to a selection of Bible passages which have been or have become important to me. My appreciation and love of the Bible has developed over the years and I read it in different ways at different times. I invite you to ponder these words of Scripture and to ask God to speak to you as you reflect on them, for yourself and for the communities which are close to your heart.
Luke 24: 13–19a [New International Version]
Now that same day two of them were going to a village called Emmaus, about seven miles from Jerusalem. They were talking with each other about everything that had happened. As they talked and discussed these things with each other, Jesus himself came up and walked along with them; but they were kept from recognising him.
   He asked them, "What are you discussing together as you walk along?"
   They stood still, their faces downcast. One of them, named Cleopas, asked him, "Are you the only one visiting Jerusalem who does not know the things that have happened there in these days?"
   "What things?" he asked.
I love the way here Jesus asks questions to which he already knows the answers! It seems that he asks these questions so that the two disciples have permission to talk, to articulate their grief and their confusion.
How often do we find ourselves reluctant to ask someone the question "How are you?" Perhaps we know that the answer will not be easy, or that the initial response will be "I'm fine". Sometimes a gentle question may be important to allow us the opportunity to express something that no one else has listened to. If we choose to share, that is.
Graham Kendrick wrote a song based on this story in which he called Jesus the 'Comforting Stranger'. I invite you to read the passage again and imagine that you are walking along a road and that Jesus, the Comforting Stranger, is walking beside you. What question do you long for him to ask you? How would you reply? If you want to, you can 'turn' this conversation into prayer.
Spend time answering the question you want Jesus to ask.
Or simply sit for a while, and be aware of Jesus sitting with you.
Or go out for a walk, and sense his companionship beside you on the road.
Prayers for July written by Anne Browse, MWiB President 2015–2017
Image: listening; photo by Anne Browse
Download Weekly Prayers for July here:
[wpdm_package id=16162 template="link-template-default.php"]