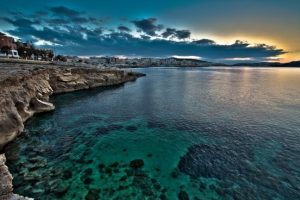 Postcard Prayers from Malta 2
St Pauls Bay in Malta is believed to be the site where St Paul was shipwrecked on his way to Rome as a prisoner. Its a great story and can be found in Acts 27. The waters around Malta and the Islands remain challenging for sailors and fishermen today.St Paul bought Christianity to the Island during his stay by healing the father of Publius the Roman Governer at the time. Publius was converted to Christianity and became the first bishop of the Island. Later Paul travelled on to Rome and was martyred. Today 98% of those living on the Islands identify as Christian (Roman Catholic) and attendance at church is high.
This week we pray for all who earn their living from the sea. We pray for fishermen and sailors who ensure that food arrives at its destination in good condition. We pray for all involved in the tourist and leisure industry ensuring public safety in the busy waters. We pray for those involved in the import and export of food and goods and those working in busy dockyards.
We pray also for all prisoners and those under house arrest or exiled across the world particularly those held for political or religious reasons or as prisoners of war.
And we pray for evangelists and all those who share the good news of the Christian faith with others by what they say and by how they live.
Lord help us to be good ambassadors  for your kingdom and give us the words we need to share your kingdom with others, Amen.
Maggie Woods