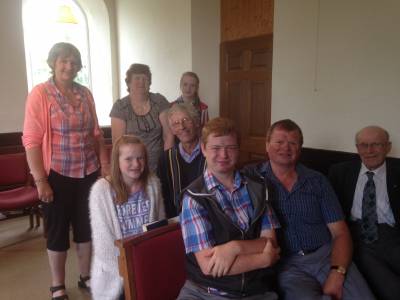 This morning I led worship with a Methodist congregation in extremely rural Mid Devon. Upham Chapel nestles in a small settlement and the congregation is drawn mainly from the local farming community. They were happy to be photographed for today's blog!
You may have read about the sandwich created two weeks ago at Wellington Methodist Church. If not, you may like to read that blog first, in order for this one to make sense. The link to that day is here.
http://www.mwib.org.uk/about-us/president-s-blog/entry/sunday-26-july-2015-a-matter-of-taste.html
The lectionary this morning was again in John chapter 6, this time where Jesus is talking of himself as the Bread of Life. Alongside this was the story of Elijah's escape to the wilderness, at a very low ebb, and of God's provision of food and rest to restore his energy and lift his spirits. The story is found in 1 Kings 19: 4-8 if you would like to read it.
At the end of this morning's service I cling-filmed and packed up my sandwich to bring it home and distribute, mostly to the dog! However David, in the back row of the photo, asked if he could have it? The congregation were going out to picnic together and a new couple had brought no lunch with them, so David gave them his (more conventional) sandwiches and took the multi-decker mega sandwich "because I am quite happy with everything in it"!
I really hope that he will enjoy Marmite and jam in very close proximity to each other!