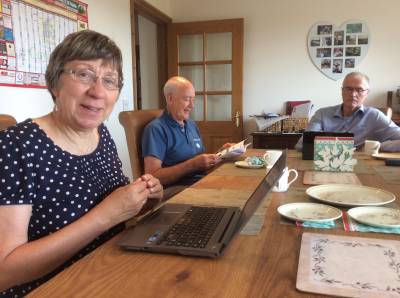 Yesterday afternoon Linda, MWiB Vice President, and her long-suffering husband, Eric, called in for tea. They were on their way to Plymouth to catch the night ferry to Roscoff. As this photo shows, Linda was still completing MWiB business as she emailed off a document about next year's Easter Offering service from our kitchen table!
People often ask me now how my new 'job' is going? I try to explain that this is not a job, rather a voluntary role, but I must admit that on the whole I feel no less busy now than when I was teaching full time! It is just a different kind of busy-ness.
Getting the balance right with all our responsibilities is an ongoing challenge for most of us, I guess. My challenges will be different from yours, but I come back time and again to the story of Mary and Martha, of being and doing. Being versus doing? No, being and doing, because most of us have to manage both.
I shall have an enforced period of more being than doing from tomorrow, when I am going into hospital to have my gall bladder removed. If all goes to plan it should be done by keyhole surgery and I will be discharged the same day. I promise to be good and take time to recuperate! I may prepare a few Blue Peter-style blogs – "Here's one I made earlier" – so that all I have to do is press and publish! And I promise not to publish pictures of the offending gall stones!