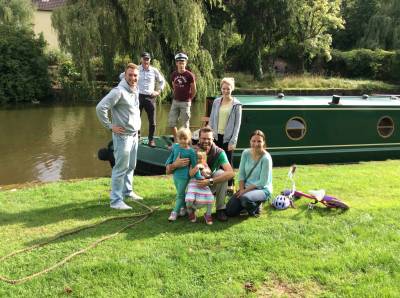 My problem tonight is deciding which photo to post, after a very varied day. This morning I was planned to lead worship in the Methodist Church in Tiverton and it was so good to feel pretty much back to normal!
This afternoon we went out with friends and family on the Grand Western Canal, a wonderful amenity right on our doorstep. As we neared Tiverton we met one of my former colleagues and his family and they rode with us as far as the Canal Basin, where we all enjoyed ice creams together. The photo is of all of us beside the canal boat.
That would have been a lovely outing in itself, but the highlight of the return trip was to enjoy numerous kingfisher sightings. I never fail to be amazed and excited by the vibrant flash of electric blue as this tiny bird darts ahead of us down the canal. Today we saw one or more likely several kingfishers, not only in flight but also perched on branches, so that we were able to get a really good view of the bird's blue and orange and white markings and its long bill.
Some of my friends and I have coined the phrase 'kingfisher moments', meaning moments when something happens which encourages and reassures us and convinces us that God is present. I will unpack that more in tomorrow's blog!