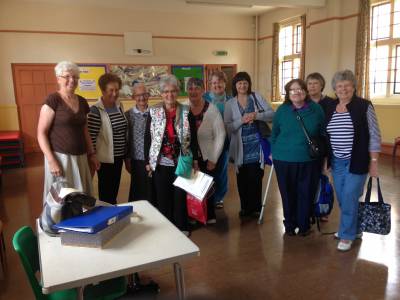 No more kingfisher stories for a while now, although it has been lovely to hear some of your experiences of moments when something has lifted your spirits or made you aware of God's presence.
Two busy days, so blogging briefly tonight. Yesterday I travelled up to Methodist Church House for the first meeting to evaluate the MWiB Swanwick residential weekend 2015 and to begin to plan for 2016. A privilege to work with such a committed group of volunteers. Today I joined the Plymouth and Exeter District MWiB committee at their meeting and it was good to be together with women from across the Circuits.
I am not good at remembering to take photos for the blog! Completely forgot yesterday, except for a shot of Sherlock Holmes as I arrived at Baker Street in the morning en route to Methodist Church House. I did slightly better today, and persuaded the last group of stragglers to pose for a photo shoot. I think some of them quite liked the idea of fame at last on the President's blog!
Oh, and Happy New Methodist Year, a little belatedly!