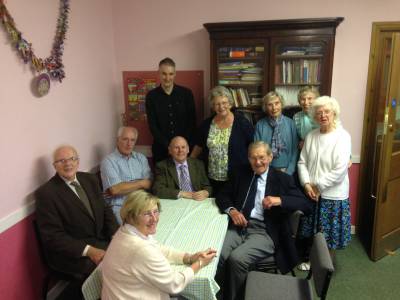 It was good to share Margaret's story of Bethel Nursery in The Gambia yesterday. After her reference to the theme 'From a Spark to a Flame' I smiled this morning as we sang the hymn 'Beauty for brokenness' from which that phrase comes.
I was not sure what to blog about today, as it has been so varied. This morning I was back in the little chapel where I made that multi-decker sandwich a few weeks ago, and it was good to know that David, who had taken it for his picnic lunch, had suffered no ill effects from eating jam and Marmite together!
This afternoon we gathered in our own church for a bring and share tea and to wish well to one of our young people who is off to university soon. It was good to catch up with friends who have been away over the summer.
This evening I worshipped in our Methodist Church at Tiverton, and was greeted with the news that several of the people there are following this blog! When I offered them the chance to appear in today's post there was no shortage of subjects for a photo! You may recognise John and Richard, who were also at our Local Preachers' meeting last week. They seem to get in on as many photos as possible!