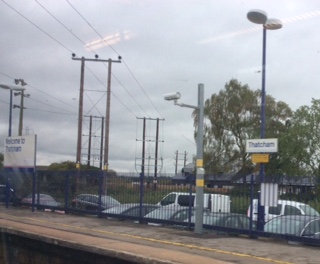 Today I relived an old, familiar journey, as I travelled by train from Newbury to Reading, in order to catch the train back to the Westcountry this afternoon. We stopped in Thatcham, where I was born and grew up. Not an amazing photo, but the best I could get through a grubby carriage window. I know that some of you reading this blog know this platform as well as I do, because you grew up in Thatcham, too!
I stayed last night with my father, who told me a story about my paternal grandmother which I had never heard before. She used to work at a bookstall on Newbury station. A particular businessman, en route to London, would arrive early each day for his train and stand at the bookstall, reading a chapter of a book and then returning it to the stall without buying it. When she reckoned that he was coming towards the final chapter my grandmother would remove the book from the display, so that he never got to enjoy the end of the story!
The story made me smile. Another piece of the jigsaw of our family history falls into place and I wonder if I have inherited a little of my grandmother's sense of humour?