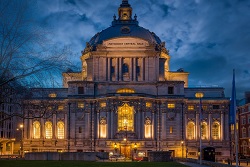 Did you know that Methodist Central Hall Westminster hosted the very first meeting of the United Nations General Assembly in 1946? To mark 70 years since the founding of the United Nations, the hall will be 'turning blue' on Saturday 24 October. Follow this link to read more.
Those of us attending the World Federation Day at Towcester Road Methodist Church in Northampton tomorrow, Saturday 24 October, are also invited to wear blue! Whatever colour we choose wear, the important focus will be on the progress that has been made towards the Millennium Development Goals since they were set in 2000.
It is still possible to come and join us – see details here.