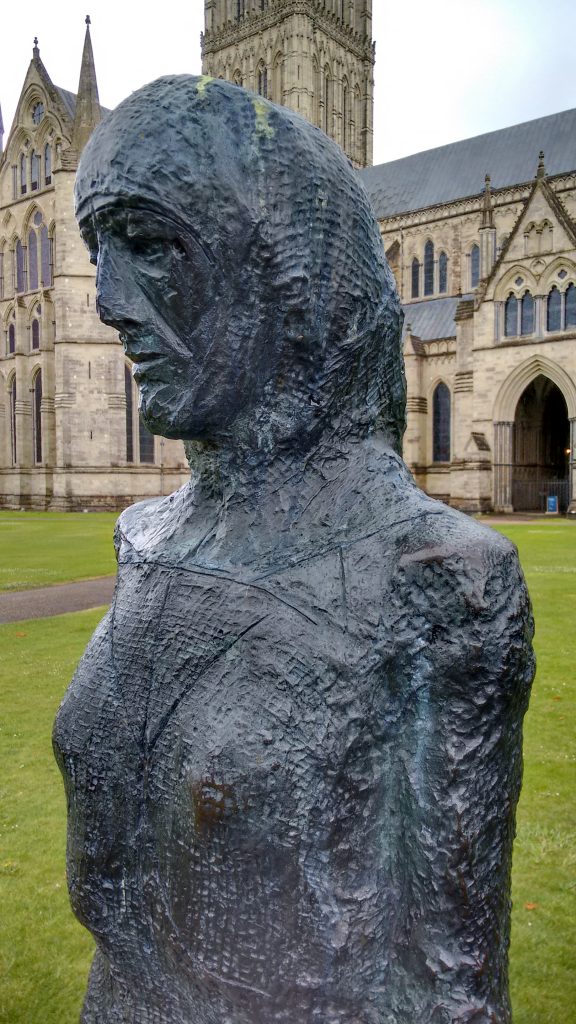 The Walking Madonna: a statue by Elizabeth Frink in the grounds of Salisbury Cathedral.
She steps out, alone
Unencumbered by
Extraneous belongings
Her back to
The great and imposing
Salisbury Cathedral.
Walking away with
Purpose and determination
In her stride.
So leaving behind
All issues of dogma, gender and 'not possibles'.
The Word that is calling her
Tells of the love of God
For all His world.
For was not this the purpose
Of her Beloved Son?
And did not her Beloved Son –
God's Son –
Before her very eyes
Die nailed on a cross?
And was not her Beloved Son
The Risen Christ?
So she steps out
Not faltering
But with head held high
And eyes unflinching
Leaving behind
All that hinders
Her message of love and compassion
(which so often is ignored
and unrecognised).
Her steadfastness
Gives hope and courage to us all.
May we join her pilgrimage
And follow in her footsteps
And
Those of her Beloved Son
Our Lord and Saviour
Jesus Christ.
© Anne Munday
Copyright remains with the writers in each case. Please contact admin@mwib.org.uk for further details.