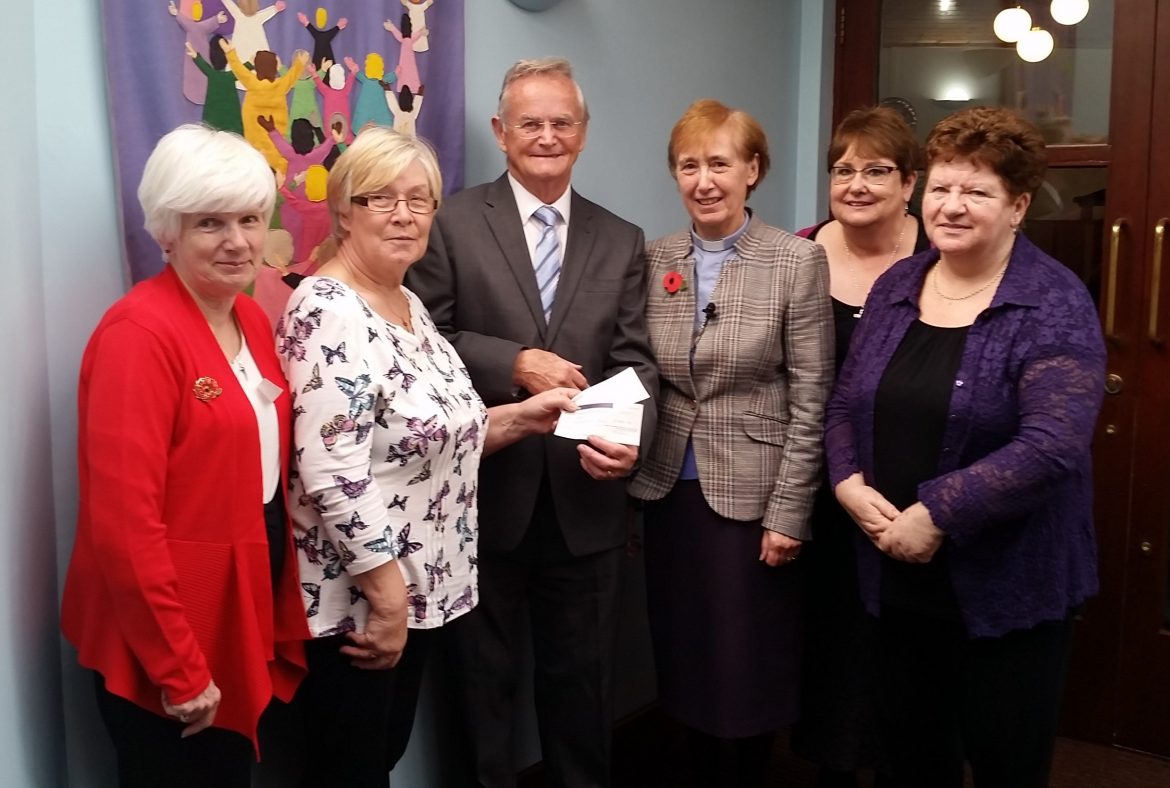 On Tuesday 31st October, a group of ladies from Liverpool Methodist District made their way to Old Roan Methodist Church, Liverpool to attend the Methodist Women in Britain's Autumn Gathering.
It's always lovely to see friends from all over meet up, share fellowship and swap news.
During the past year, Liverpool MWiB have been fundraising for the overseas charity Mary's Meals and presented their representative Michael Markey with a cheque for £9,066.  Michael described our donation as a 'cloud of love'.  It was with delight that we found out that our donation will be matched penny for penny thanks to the supporter-led match-funding campaign, 'Double The Love' meaning our donation is actually worth £18,132!
After lunch, we were introduced to our new project for 2017 – 2018.  Two trustees from Wirral Women and Children's Aid spoke movingly of the work of the refuge and gave accounts of women and families who stay there.
Our donation will help fund a purpose-built garden.  They are working with an architect and also a community gardener to design the right space with flower beds and play area.  It is hoped that planting up and tending to the beds will act as therapy for residents.
In the afternoon we also held a short induction service for our new Liverpool MWiB President Norma Holloran.  It may have been short but it was full of emotion as God's presence was felt in the room blessing Norma and all the ladies present.
And so Rev Lily Twist's two years as Liverpool MWiB President come to a close.  We give grateful thanks for all that Lily has done guiding this faithful ship, enabling and encouraging along the way.
SAVE THE DATE:
Spring Gathering – Thursday 19th April 2018.
Speaker Deacon Denise Creed, venue to be announced.