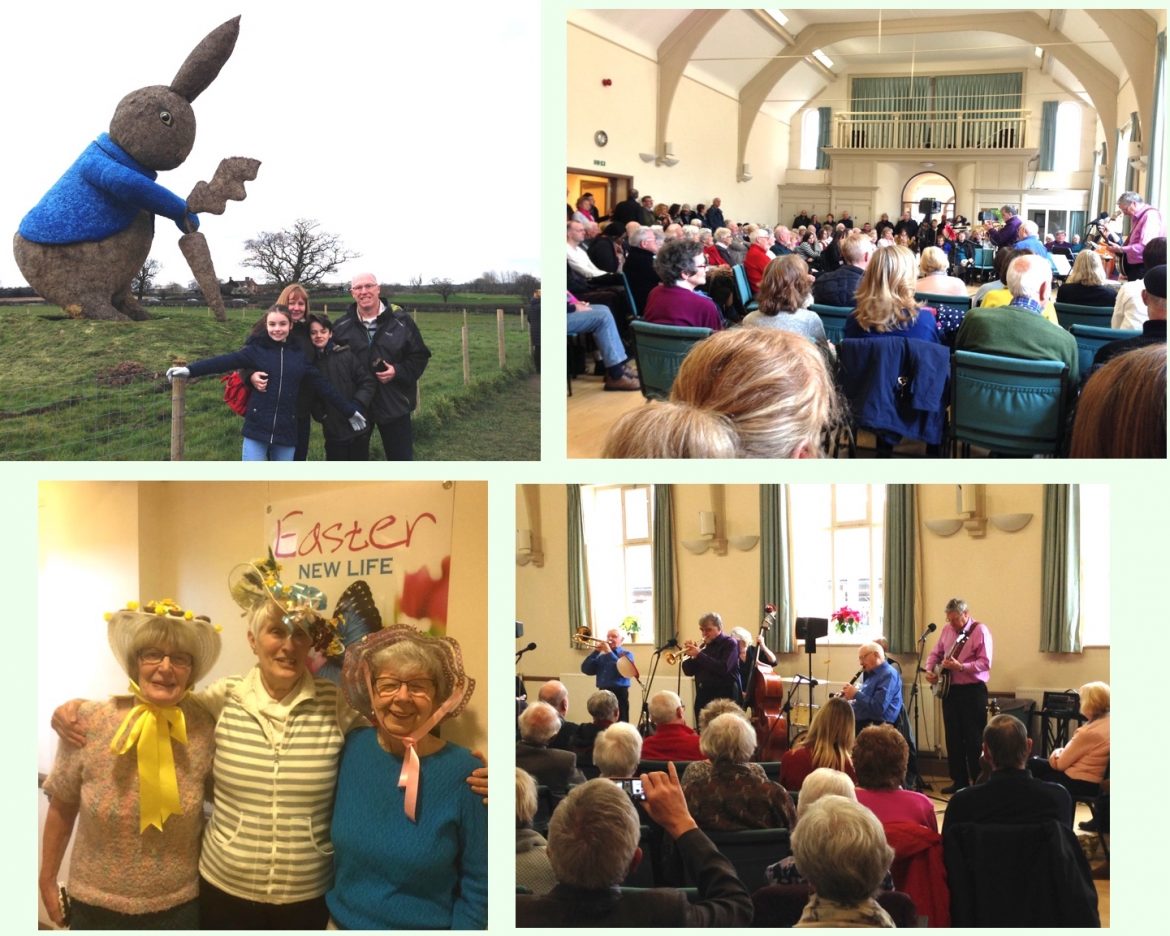 Following on from my last two blogs, 'Gathering Together' and 'Peace and Hope' I continue the story of our Easter celebrations in Nantwich.
Having woken early to celebrate in the Labyrinth garden at Poole, David and I returned to collect the sleepy-heads – Jane, Lucy and Daniel, and together we enjoyed a full cooked breakfast at Nantwich Methodist Church.
This was followed by the Easter morning service in which we dressed the empty Good Friday cross with flowers, to represent new life. After sharing in Holy Communion, members of the congregation walked behind the cross into the centre of Nantwich greeting those we met with a 'Happy Easter' or 'Easter blessings' and offering a Celebration chocolate.
Still feeling full after breakfast, we decided to have a snack lunch before visiting the giant Peter Rabbit, pictured above, at Snugbury's farm, just outside Nantwich. Snugbury's farm also make real dairy ice-cream on the premises and fortunately the rain held off just long enough for us to enjoy a variety of flavours of this delicious treat.
The Easter weekend was also the annual Nantwich Jazz Festival and returning to church we were in time to join in the jazz service led by Rev'd Malcolm Lorimer and the local Salt City Jazz Band, pictured above. A lively occasion, we were treated to a variety of music around the Easter message – and an Easter bonnet/umbrella parade. I'm not sure quite how I was persuaded to produce a hat, along with Doreen and Ann pictured above!!
Easter Monday dawned in a rather 'soggy' Nantwich which ruled out any ideas we may have had of outdoor activities. Having discovered that the the film 'Peter Rabbit' was showing in Crewe, we decided to continue the theme and booked three seats for Jane and the children, while David and I caught up with a few administration tasks.
Worship, celebration and time to share and relax, a lovely weekend all round!
Blessings,
Sandra