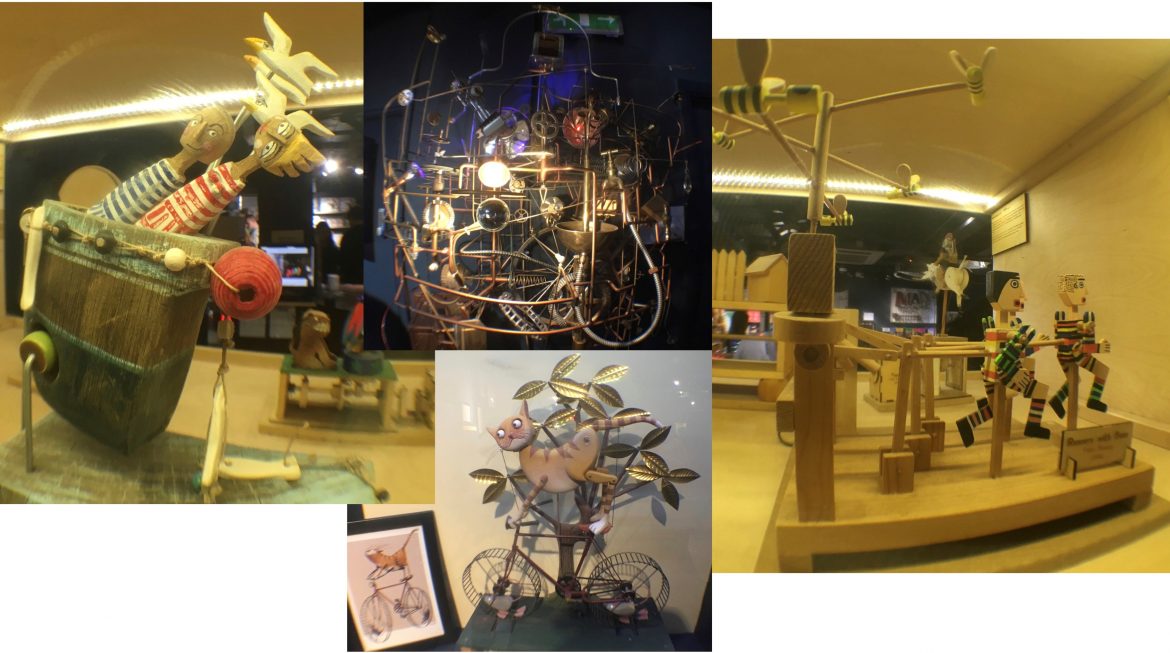 The MAD museum [Mechanical, Art and Design] in Stratford upon Avon packs a lot into a small space. My husband and I recently visited with our two eldest grandsons. It would be easy to pass the entrance as it is via a fairly narrow staircase, but as you reach the first floor you enter into a different world, a world of automata, curious moving sculptures and complex creations that send marbles running around, through, over and under various obstacles and tracks.
The boys were fascinated, as we were, because there is something compelling about many of the exhibits. It can take some time to follow the track of marbles of what it is that makes certain movements happen. As I watched I couldn't help feeling that it takes a certain kind of mind to create these objects, and one might wonder what purpose most of them have. Except, looking at the faces of the children as we gradually worked our way round was fascinating. They were intrigued and fully absorbed – and not just our boys but so many of the children [and adults] there. There was much to learn, especially for any budding engineer, artist or designer, as most of the workings were clearly visible. Plus, the entertainment value was significant, and visitors are encouraged to press buttons to begin their interactions with the displays.
Some might say that those who design such models are mad, and they most definitely do need a strong imagination, a determination to create, to solve problems, and a strong sense of fun. My reaction is that that is a much more healthy way to react to the world, providing enjoyment, putting smiles on people's faces.
There are other forms of madness in our world. Events that have, and are being carried out on the political scene in many parts of the world, can leave one wondering about the minds that lie behind them. The injustices of false accusations, even imprisonment; exploitation that leads to trafficking and slavery; seeming lack of care or action to protect the natural world might all be described as madness by some. Yet I know which kind of madness I prefer.
This MAD poem was on a wall in the museum.
The weird, the wacky, the wonderfully unique,
Come and be tempted to peer and peek
Experience the imagination of marvellous minds
Extraordinary conraptions, extra-ordinary finds,
Objects will startle and all in arms reach
Surprises from bangs; clatter,clang and a screech.
The chatter and rattling of pulleys and plugs
Designesd and established by nifty, smart smugs
Youcan wind it, build it, press It, supply it,
Create it invent it, supply it or buy it
See enegetic art in motion and form
Frantic mechanics, frenetic once born
Touch gadgets and gizmo's – are they made or quite genius?
Discover for yourself, Go MAD – make a sceneof it!
Kate Barnwell