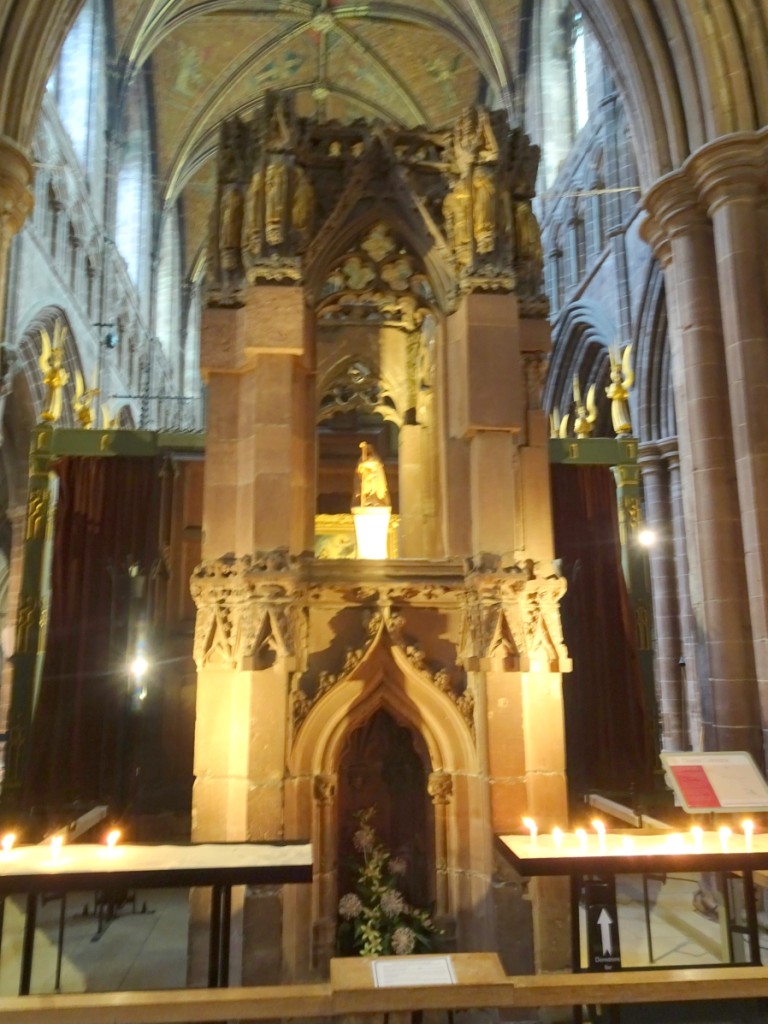 Over the next two yearsthe Chester and Stoke-on-Trent District MWiB are hoping to complete the 92 miles of 'The Two Saints Way' in stages. This is a Pilgrimage between the two Cathedrals of Chester and Lichfield, which crosses our District.
Thirteen of us began the first stage, Chester to Waverton, on Saturday 19th October at the Shrine of St. Werburgh in the Lady Chapel after entering Chester cathedral by the impressive 'Pilgrim Doors'. We received a warm welcome to the beautiful Cathedral then held a short service, including the prayer of St. Werburgh, a hymn and a commissioning prayer.
The rain cleared as we began our Pilgrimage through Chester to the canal via St. John's Church, by the Roman amphitheatre and through Grosvenor Park. We followed the canal to St. Paul's Mission, a  chapel of ease, which was used as an outreach to boatmen and their families, now converted into houses, then on to St. James' Church, Christleton, where we received another warm welcome from Bettie, who made us a very welcome cup of tea.
After a prayer, we continued through the village, re-joining the towpath to walk to our final destination, Waverton. New friends were made and stories shared as we trod in the footsteps of the Saints, full of enthusiasm for the next stage of our Pilgrimage in the new year.
If you would like to join us for one of the stages on our route, look out for more information here on the MWiB website, and on the Methodist Women Facebook page. All are welcome!
Ruth Parrott and Sylvia Harrison