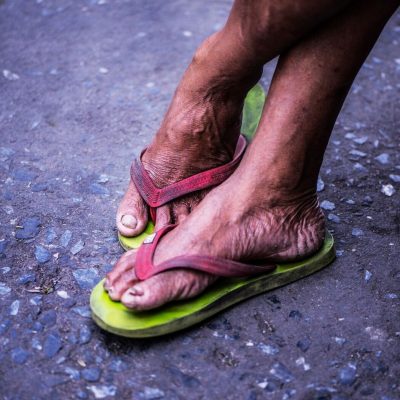 How Beautiful
Isaiah 52 v 7a
'How beautiful on the mountains are the feet
of those who bring good news, who proclaim peace.'
How beautiful are the feet which pick their way
through broken glass, blood and carnage
to bring comfort to those dying,
to save the lives of those bleeding,
to be alongside the terrified in the bars of Paris.
How beautiful are the feet which trudge
through mountain passes, landslides and rocks
to bring food, water and medical supplies
to those cut off for days,
In remote villages in the high Himalayan passes.
How beautiful are the feet which pound city streets
in the early hours of the morning,
offering hot drinks, flip flops and taxis
to those who are vulnerable
and have put their lives at risk.
How beautiful are the feet which repeat the same route
day in and day out, visiting the houses
of those who have no one,
locked in homes that no longer ring with voices
and where hardly anyone comes.
How beautiful are the feet which go the extra mile,
carrying the extra load,
often blistered, weary, dusty
yet fixed and unerring, following the road that
leads to you, our Prince of Peace.
How beautiful are the feet which were pierced by nails,
feet which trod this earth of ours,
opening paths of inclusion, tolerance and forgiveness.
Feet which trod the dusty, jeering road to Calvary,
For our sake – from deep within – to show us the road to love and peace.
HOW BEAUTIFUL
© Sue Whalley
Copyright remains with the writers in each case. Please contact Lynne Ling for further details.
The judges liked this meditation for a number of reasons:
• It is a well-crafted piece of writing with a firm theological base expressed in a series of creative and evocative images.
• It takes a biblical image and unpacks it, bringing it up to date.
• It gently and subtly raises political issues both in this country and worldwide.
• It reflects on previous natural disasters and tragedies which have been in the news and in our prayers only briefly but which are ongoing   issues, often with an ongoing Christian presence.
• It is both personal and universal.
• It highlights that there is no hierarchy of suffering.
• It can be used as a meditation.
• It reflects the social concerns of Methodist Women in Britain and the World Federation of Methodist and Uniting Church Women.
• It is thought worthy of Isaiah!