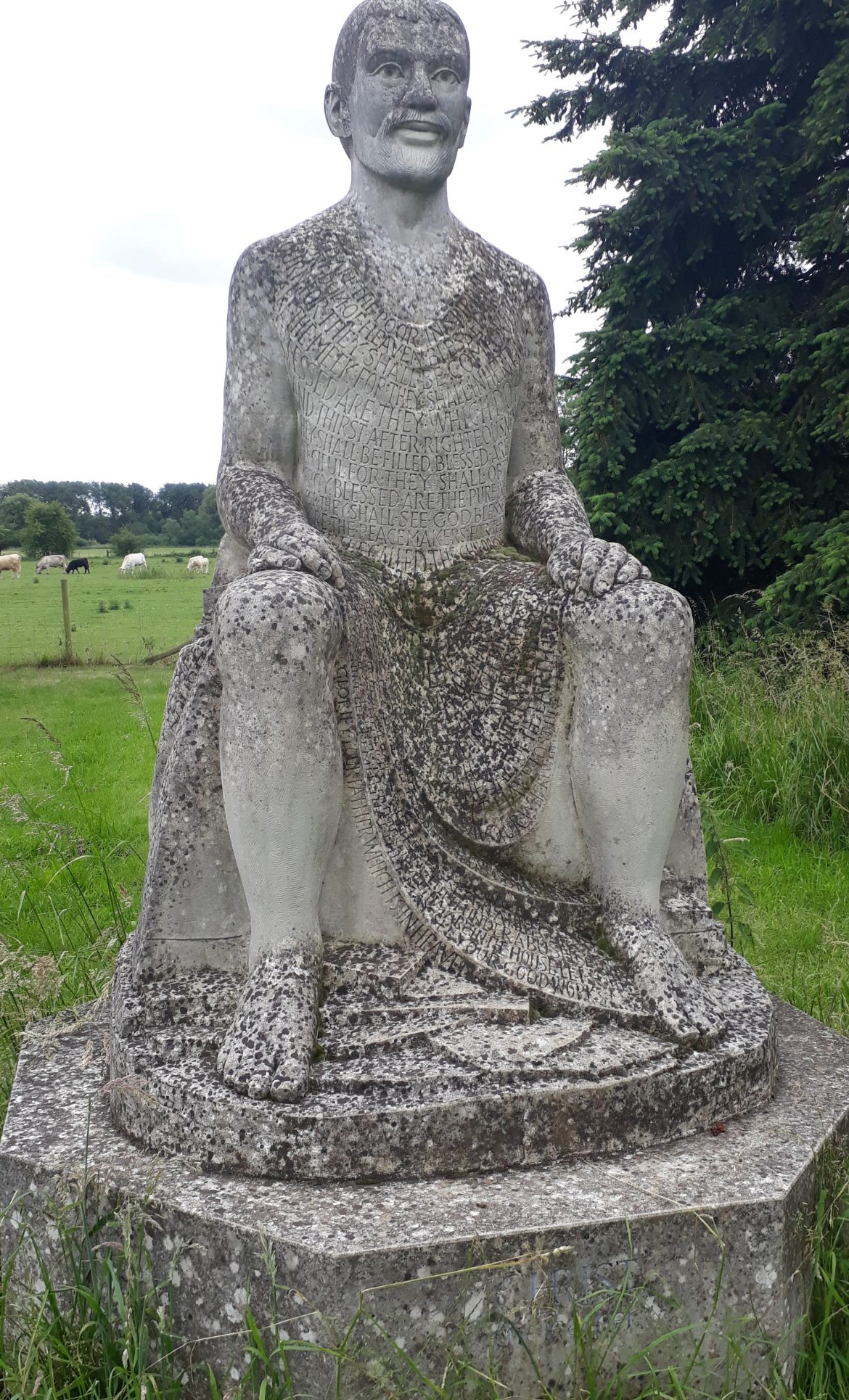 Saturday was much anticipated last week, and did not disappoint. We, my husband and I, met with some of our family for a wander and a picnic at Waterperry Gardens, north east of Oxford. We had not met face to face for some time. I had stopped off to see them at the end of February after attending several meetings, but my husband had not seen them, other than online, since Christmas.
None of us had been to Waterperry before, but it proved to be a good venue: space to meander and chat, some beautiful borders to admire, including a 200 feet long herbaceous border, and a meadow to encourage butterflies to name just a few of the attractions. There are also several statues/memorials. One of these was a seated man, seemingly wearing a stone robe. On looking more closely we saw that all over him were written verses of scripture. The beatitudes were on his chest and words from Isaiah all down his back. We struggled for a while to find a name for him, but hidden amongst longer grass around the plinth it read Christ the teacher. As teachers, or ex-teachers at various levels of education we wondered about his history. If anyone knows we would be interested. In another part of the garden stands a red granite obelisk. Two sides have sanscrit lettering, , the third Peace, Peace, Peace, while on the fourth from top to bottom it reads All be happy, All be without disease, All creatures have wellbeing and none should be in misery of any sort. Again we did not know the background for this object, but the sentiment seemed to express a good message for our world at the present time as we look towards a future in which we need to all take better care of the world. We later discovered that this is a Hindu prayer, the repetitions of 'peace' are the end of the prayer – ' may peace, and peace and peace be everywhere.'
One of the concerns during this time of lockdown has been about those people who are in situations of isolation and loneliness, and who do not have the knowledge or the means to engage in social media or online activities. Many churches have endeavoured to keep contact , but this has not always been easy when most members of a congregation have been in lockdown. Some of these isolated people are likely to continue to be quite isolated. Some will have ongoing health concerns, some will have lost confidence to go away from home and some will have lost mobility during the restricted period and so are less able to go out. Church attendance will no doubt be affected when churches are able to re-open fully. So, one of the things which Methodist Women has been negotiating during this time of lockdown is a partnership with an organisation called Twelvebaskets. Twelvebaskets may be familiar to some of you. They have been producing service sheets to support local arrangement services, for a couple of years. At the start of lockdown, they committed to produce a version, The Vine at Home, which could be used by individuals or groups at home. This resource is free at the point of receipt, but there are production costs. When it became clear that lockdown would continue, at least for many people, for quite some time, Methodist Women in Britain have committed to support so that the services can be produced weekly, for at least a further year. As I write we are about to begin partnering Twelvebaskets for The Vine at Home. Please lookout for the details, coming very soon. You will be able to download from our website www.mwib.org.uk or from https://theworshipcloud.com/ and share widely. We have heard stories of the resources being used by all the resident in blocks of flats, passing them from one to another, young mothers finding a brief time for worship in their week, and friends sharing the services over the phone each week. We hope that many more ways of sharing will be found.